There are so many pretty lip products in the Korean market but we choose the products that the people were most often. These are the colors you can wear almost every day from your day job or the school/college look to the evening hangouts with friends, a dinner date or the bold party look. Nude colored lipsticks are the one that you can wear for your everyday look or when you want that subtle no-makeup-makeup look. You can even use the nude color lipstick as the base for the other lipstick. If you have got the darker lips or your lips have got pigmented due to the bad quality lip products, then for the application of the pastel colors or the brighter colors you can use the nude lip color as the base. You can even mix up some of the nude shades to get a new fresh color or if you want to get the proper gradient effect on your lips then the second color that is darker than the first one in the inner side of your lips and spread it properly which will give you the gradient matte lip finish.
The main benefit of these nude lipsticks is that they go with any type of makeup such as smoky eyes, nude no-makeup look or just the everyday style. The main reason we review these lipsticks are that many lipsticks satisfy in one way but then don't work up to the mark in the other. Like some lipsticks lose their pigmentation throughout the day, many of them look matte gives perfect finish but dry off quickly and even dry out your entire lips and feels uncomfortable on your face because you just can't tell how the lipstick feels throughout the day by just seeing its images online so we are here for you doing this review on lipsticks to let you know all inside and out of the top Korean lipsticks.
Editor's Recommendation: Top Korean Lipsticks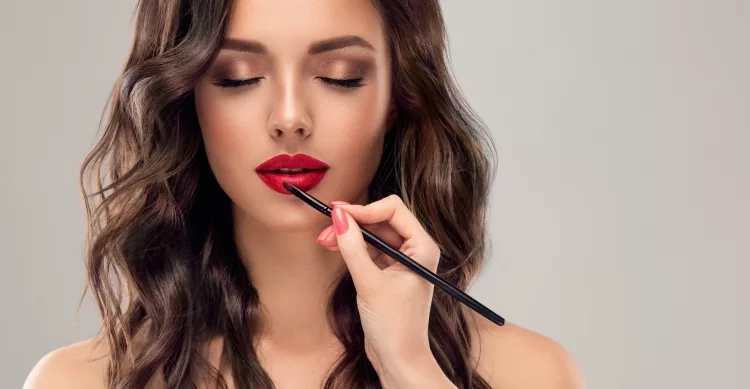 Top 13 Best Korean Lipsticks
Lipsticks are a girl's best friend, and no one knows that better than the Koreans. Their lipsticks are some of the most popular in the world, and for good reason. They're highly pigmented, moisturizing, and long-lasting. If you're looking for a new lipstick to add to your collection, or just want to try something new, these Korean lipsticks are definitely worth checking out.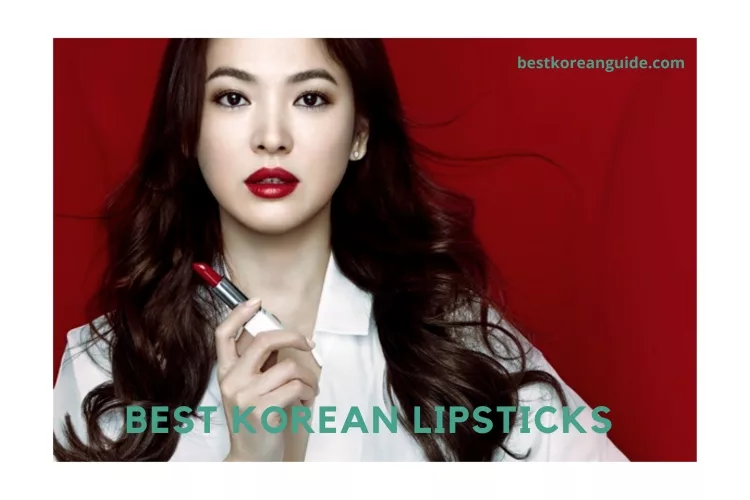 Peripera Ink Airy Velvet Lipstick - Link
This lipstick makes quite a lot of intriguing promises. To obtain a velvety matte texture, it appears to be laced with marshmallow root extract. It's intended to have a delicate and fluffy appearance which is to be interpreted as blurred with a marshmallow-like consistency that feels silky and gentle on the lips. It is intended to reduce the appearance of lines and cracks on your lips, and each hue in this series should be a great fit for your skin tone. It's also touted to be a long-lasting composition. It nearly appears to be too wonderful to be true.
Pros
Its adherent composition with highly saturated pigments provides your lips with a gorgeous and even tint.
This could be used to color both your pout and your cheeks! Lighten the effect with a gradation coating of color, or go strong with a deeper coating.
The color contains silk particles and jojoba oils to provide a silky glide. This tint contains silicone, which fills in the delicate curves of your lips and gives them a velvety texture.
This is a tested formula. Our clients' all-time favorite item is our Ink the Airy Velvet Lipstick. It has the feel of soft cushions and blossoming flowers.
Cons
There are no apparent cons to this product.

3CE Mood Recipe Matte Lip Color - Link
A well-known website has almost 2,000 ratings for the 3CE Mood Recipe Matte Lip Color, practically all of them would be 5-star ratings. If you like velvety matte lip colors, this is the one for you. The lipstick is accessible in two natural fall tones with such a good color intensity. The colors are incredibly stunning and organic, and are ideal for the fall term season or a no-makeup appearance! Mellow Flower and Step & Go are two of our favorite colors.
Pros
Its formula is designed to stay for hours on your lips, giving you an amazing long-lasting experience.
This formula is not just long-lasting, but it is also highly textured with nice pigmentation.
Perfect for All Skin Types
The shades are refined in such a way that each hue goes perfectly with almost every other complexion.
Cons
More shades are coming up though, but as for now, there are just a few ones available.

Pony Effect Powdery Whisper Lipstick - Link
It features a soft and airy mix that enables absorption easy and simple. For your convenience, it comes in moderately and shiny finishes, and the lipsticks are enriched with white flower complex, nectar, and shea butter to help avoid dehydration.
Pros
Powdery Matte Finish with Moisturizing Effect
Despite the fact that this is plain lipstick, it contains an oil paste that hydrates the lips and keeps them from drying out.
The Powdery Whisper Lipstick rolls on smoothly, with consistency so light and pleasant that you'll neglect you've put anything.
Cons
No evident cons as such; however, the experience varies person-to-person.

PONY Blossom Lip Color - Link
PONY blossom lip color is in the four different shades which are the spring romance, rose garden, a nude orangish peach, and the bubble gum pink. This is a perfect set that you can carry from the day to the night look. The bubble bum pink or the nude peach can be used for the day events like for the office or the college look and then you can use the brick red and the brown colors for the evening date or the super glamourous party or just the shopping scenes. As the darker colors are not too dark you can carry them for the subtle occasions too. These are the creamy lipsticks that give you the sort of creamy but matte finish. Its texture is in between some oily, creamy and matte finish. It comes in the 0.32-ounce package. You can create a gradient effect by using the lighter shade lip color. This lipstick does not dry out on your lips and it tends to have nourishing oils that moisturize the lips whenever you put the lipstick on. Removing this pony blossom lip color is easy as compared to the typical matte lip colors, all you have to do is use the micellar water put some amount of it on the cotton pad and wipe it off the lip color and you are good to go, or if you don't have the micellar water then you can remove it with the help of olive oil and coconut oil too.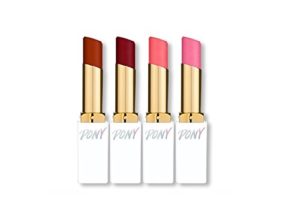 ETUDE HOUSE Blooming Lips - Link
The ETUDE HOUSE dear my blooming lips are in the shade #BE109. It is a brick brow sort of color. It has a texture that gives you the soft and tender lips along with the chiffon texture. Now you might be wondering what is this chiffon texture, the chiffon texture is the new texture which feels thin and light on your lips after the application. This lipstick formula gives you the best of both worlds that is the matte finish along with the creamy goodness on your lips. Eairlier, when the lipstick of the matte finish we apply used to dry out very soon to give us the matte finish, but it also dried our lips along with the lipstick. It used to be difficult to take it off from your lips but with this formula, you will get the matte lips with the creamy lipstick feels on your lips. It gives your lips the shine as a chiffon cloth gives. It lasts longer throughout the day without removing even when you smudge it, it lasts on your lips so that you can eat whatever you want without getting the fear of removing the lipstick. Some of the lipstick also starts fading away throughout the day and only some of the color is left behind at the end of the day, but not with this one it lasts longer on the lips and does not fade away its texture or the pigmentation. The creamy texture fills all your lips creases and wrinkles leaving them even out.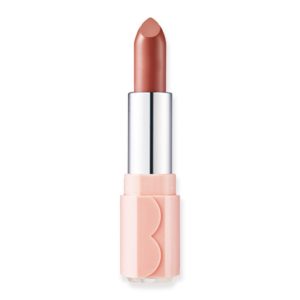 Iope Water Fit Lipstick - Link
IOPE water fit lipstick comes in the packing of 3.2 grams and in the shade #44 forever pink. This one is a shiny and glossy lip color that moisturizes the lips leaving the lips glossy and with vivid colors. This is a bright pink color that gives your face a vibrant look with the bright color. This is a very playful and joyous color that can be used for a day time outing or picnic with the family or a beach look. This is the exact similar lip color that the Lee Da Hae wears in the Korean drama called the Hotel King. This is a clear lip color but gives you the intense color on the application. You can even buy some of the other shades lipstick from the same company and mix them up to create new colors mix and match them and have fun around. This gives your lips the moisturization that they need and lasts all day long. It does not fade away throughout the day and stays as it is when it comes to the color. The lipstick is so creamy and soft textured that it covers all the lines and dried out lips and gives the lips fuller and even texture.

Laneige Silk Intense Lipstick - Link
Laneige Silk Intense Lipstick comes in the various shade and the one that is shown in the image is in the shade number 465 called Privilege. It has almost 57 various shades. The Laneige silk intense lipstick comes in vivid color and has a silky soft texture. It is thin and feels light on your lips when you wear it, it feels like it is your own natural lips. It has 57 different kinds of lip colors from the natural nude to the glossy glam up dark colors. Now you can mix and match and try the whole new range of colors on your lips. If you are tired with your daily and boring simple lip color then you can have fun using these lipsticks and create the gradient look effect on your lips, all you have to do is color your lips with a lighter shade on the entire lip. Then take a darker shade that you want to pair it with and apply it on the inner side of both lips and dab it smoothly and nicely to the outwards. You can apply this lipstick in one stroke as it is that silky in the texture and keeps your lips comfortable all day. It lasts longer which is the main benefit of this lip color that it does not fade away during the day like most of the lipsticks do. It can even survive the coffee sips that destroys most of the lipstick.


Innisfree Real Fit Lipstick - Link
Innisfree is a very well known Korean brand that has been in the Korean beauty market for quite a long time. This time it is a lipstick that has made it to the top list amongst the other brands and lipsticks. The lipstick shown in the image is the apricot shade. It is very soft and gentle on the lips when you apply it. Gives you the perfect glossy finish which you can carry out throughout the day. It lasts longer and can last up to the whole day. It spreads the vivid color in just a single stroke on your lips. It is so light that you won't feel a thing when it is on your lips. This lipstick moisturizes your lips and doesn't dry them as it is really very comfortable on your lips. It has the palm oil extracts that keep your lips moisturized and soft.

Kailijumei Lipstick Set - Link
This package has the 3 pieces of original kailijumei lipsticks and the shades that they came into our barbie doll powder, flame red, and dream, purple. These lipsticks are not like the other lipsticks it has a unique feature that is they change their color according to the pH value of your lips and turns the lipstick into the various shades of pink. The main benefit of these lipsticks is that you don't have to wear the same boring colors all over and over again you will have the color variation in just the one shade of lipstick. The lipstick consists of all-natural ingredients and does not have any harsh chemicals in it that can harm the lips. It has a moisturizing effect on your lips that lasts throughout the day and keeps your lips healthy. The color lasts a whole day without getting smudge.


Holika Holika Heartful Cream Lipstick - Link
Holika Holika Heartful Cream Lipstick has a shade #BE02 named melting in the picture shown. As the name suggests the lipstick has a creamy texture. It makes your lips look attractive and with such silky smooth and chiffon texture, it gives you the perfect gloss and matte finish at the same time. It looks like matte lipstick but feels creamy on your lips leaving them soft. It is a matte lipstick with a twist, it is a balanced glossy matte lipstick that does not feel too matte and dried on the lips but is in between perfectly balanced lip color. To use it apply it on the whole lip along the lip line or you can start off at the center of the lips, to get the gradient effect you can simply dab it from the center of the lips and apply it according to your need and the look you want to achieve.


CLIO Rouge Heel Lipstick - Link
CLIO Rouge Heel is a dark lipstick shade that in numbered as 02 and named as Deep Brandy as it is somewhat in the shade burgundy. This color is the night color but if you want you can wear it in the day time too as it goes along with almost everything like nude no make up natural look, the smokey eye look or the subtle party look. You can experiment with the color in your way and can create a gradient effect as it will suit best if you want to create a gradient lip look for a morning time look. It shows the vivid colors in just one single gentle stroke. It lasts longer but it will be more effective when you keep moisturized lips and apply the lip color on that. The lipstick comes in a very portable size so that you can carry it anywhere along with you. The vividness of the lipstick color and the pigmentation it gives when applied on the lips makes a woman with any skin tone and face structure look charming and beautiful.

BOM My Lipstick - Link
BOM My Lipstick has 6 different color shades. It is a matte finish lipstick that comes in a super fun and super cool magnetic case. The lipstick color you can see in the image is the shade #803 orange. It is a unique and bold color choice if you would see not everyone can carry the color and its elegance, for that you have to carefully pair it with the makeup and outfit. You can gift this to your mother, sister or girlfriend or everyone you know because this is the shade that everyone is going to love. The brand BOM is the trending and leading brand in the Korean beauty cosmetic market. Even though it is a matte lipstick but it gives you the moisturized finish and silkiness on your lips without drying them out like most of the matte lipstick does. It shows the perfect color even when you leave it for the whole day. The main ingredients it has are the apricot seeds that helps in exfoliating the lips, avocado oil that makes the lips look vivacious, the rosehip seed oil keeps the lips energetic and finally the macadamia seeds which plays the main role in keeping the lips moisturized. The lip set comes in 7 different color shades to choose from.

Moonshot Cream Paint Daily Lip Color - Link
Moonshot Cream Paint Light fit Air lipstick comes in a pack of 3 grams. It is a production of the Blackpink Lisa makeup Korean pop Korean beauty cosmetics. This lipstick is a liquid lipstick and is in shade 504 tangerine breeze which is some sort of orange color. It is a matte finish lip color that looks matte and velvety on your lips. It is a long-lasting formula that lasts throughout the day without making the lips dry. You can even use it as your daily lip color that stays all day long without losing or fading its pigmentation. It feels lightweight on your lips and blends it perfectly on the lips hiding all the chapped lips and the creases on the lips which the people with dry lips often have. To use this product apply the adequate amount of lip color on the brush and slide it on your lips evenly to spread out the lipstick on the lips and to make the gradient effect apply it in the inner corners of the lips and dab it while it is wet to spread it properly.
Korean Lipstick Buying Guide
Nearly all of us girls have two types of lip products in our vanities: the one which we adore to wear each day maintain close by, but one which we attempt to avoid at all costs and nearly forget altogether. But, have you ever wondered what makes such lipsticks so popular - the consistency, the tint, or the stay time? As a result, it's usually a good idea to think about a few things before purchasing a lipstick. If you keep reading, you'll never have to repent of purchasing lipsticks again!
1. Shelf-life of the Product
It is critical to carefully verify the storability of lipsticks, i.e., the time of manufacturing and the time of expiry. The majority of cosmetics have a three-year storage life. Some businesses try selling one-year-old items to clear out their existing inventory and make room for new ones. If you choose such things, you will only have two years of life span left. So, it's always a good idea to go for new products produced within a year of manufacture, to enjoy the goods for the longest possible time.


2. Swatch the Shade
We are occasionally drawn to certain colors of lipstick that are simply not appropriate for our complexions or demeanor. It is preferable to swatch several colors on our wrists to see the differences between them before deciding on the one. Following evaluating the hues, you may make a decision and select the same one that you believe would best fit you.
3. Identify your Needs
It is crucial to evaluate what sort of lipstick you want to opt for among the several varieties of lip products. Among the various varieties of lipsticks are crème lipsticks, plain touch lipsticks, lipstick tubes with a frost touch or sparkle, and so on. Soft-touch lipsticks are great for moisturizing your lips, however, if you want your color to last longer, choose matt touch lipsticks. This type of lipstick is dark in color and gives you a natural appearance, making your lips appear slimmer. Frosty lipsticks, on the other hand, reflect light, making your lips shine and shimmer and appear poutier.
4. Stay Away from the Replicas
It is preferable to just have a single high-quality original piece rather than ten low-quality replicas. Premium brand copies are a typical occurrence these days. Many consumers are inadvertently persuaded by the prices of phony luxury goods and engage in copy lipsticks. These imitation cosmetics are not even close to the brilliance of the actual lipsticks. So, pretty girls, it is always a good idea to read the reviews of cheaper online buying websites that offer duplicates.
5. Avoid Non-transferrable Lipsticks
Lipsticks that profess to be non-transferable are prone to drying out the lips. So, to minimize chapped skin and dehydration of the lips, eliminate non-transferable lipsticks. If you want a non-transferable lipstick, check for other aspects such as whether it has moisturization or not. An excellent lipstick, on the other hand, should hydrate and protect your lips. As a result, it is advised to avoid non-transferable lipsticks.
6. Go through the Ingredients
Don't only take a peek just at the company's emblem! It is essential to verify the contents before purchasing a lipstick since it may include a few dangerous components that could cause significant damage to the skin and may also be sensitive to you in the same long run. Look for harmful preservatives, Retinyl Palmitate, and Tocopherol Acetate in particular, and prevent purchasing lipsticks that contain them.
7. Read the Reviews
Whenever you buy any lipstick or any other type of skincare product for that matter, always check the reviews about it as it's fresh on the marketplace. Studying a review is usually beneficial since individuals who evaluate the product often relate their life anecdotes with the product, its benefits and drawbacks, and so on. It is preferable to choose by reading reviews and inspecting the samples than to complain later after purchasing the product. When it comes to such evaluations, Amazon is usually the finest place to go.
Korean Lipstick Frequently Asked Questions
1. How to decide the perfect shade of nude considering the skin color.
The trick is to recognize your skin tone: is it warm, rosy, or yellow? Examine the tone of your capillaries on your arms to do this. If they are green, it indicates that you have a warmish undertone. A cold undertone is indicated by veins that are somewhat blueish or purple. If it is neutral, midway among blues and greens, you can attempt any hue, but remember to choose pinkish tones over brown tones.
2. How to stop lips from drying out after using lipstick?
Whenever you put on lipstick; you will usually notice that your lips get a little chapped. To counteract this, use chapstick first and then just mix the pigment that is already on the lip.
3. How to create ombre lips?
You may do this by applying a darker shade to the outside edges of the lips and a softer shade to the center. Then, mix the region at which two colors meet significantly. Colors that complement each other should be chosen. You may combine them using your right index finger or a little brush.
4. How to choose the perfect shade of red?
It is quite feasible to select the ideal red. Everyone can find a hue. Knowing your undertones will help you decide what red is ideal for you. A bright red will look excellent if you've pinkish undertones. A cherry red with something like a golden undertone will look fantastic!
5. How to use lipstick as a blush?
If your lipstick is of good quality, it is good for the skin. It provides the cheeks a natural appearance and may have been used as a cheek tint. Apply pink or red lipsticks to your cheekbones softly with your fingertips and smooth with your fingertips or a brush. Fix it with some fixing spray and you're ready to go.
Buy on Walmart
Peripera Ink Airy Velvet Lipstick | High-Pigmentation, Lightweight, Soft, Long-Lasting, - Walmart Link
Pack of 3 Crystal Jelly Lipstick, Firstfly Long Lasting Nutritious Lip Balm Lips - Walmart Link
BBIA Last Lipstick Red Series, Velvet Matte, Red Rose (04 Classy) 0.11 Ounce - Walmart Link
PrettyDiva Jelly Flower Lipstick - Crystal Agate PH Flower Lip Moisturizer Lipstick, - Walmart Link
CLIO Rouge Heel Velvet x Fei, Velvet-finished lipstick (Roasted Red) - Walmart Link
Peach C 4Season MLBB Korean Lipstick - Semi-Matte Lipstick - Silky Finish and - Walmart Link
YULIP LIPSTICK SUNSET PINK CORAL PINK COLOR LIPSTICK : Non-toxic, Organic, Clean, 100% - Walmart Link
HERA Long Lasting Matte Lipstick Sensual Spicy Nude Volume Matte Jennie Picked Korean Lip - Walmart Link
I'M MEME Matte To Go | Mini High-Pigment Matte Lipstick | 001 Automatic | K-Beauty Korean - Walmart Link
EGLIPS Muse in Velvet Lipstick, Coral Rose (V003 Warm Vitamin) 0.06oz - Walmart Link
Buy on eBay
Peripera Ink Airy Velvet Lipstick | High-Pigmentation, Lightweight, Soft, Long-Lasting, - eBay Link
Pack of 3 Crystal Jelly Lipstick, Firstfly Long Lasting Nutritious Lip Balm Lips - eBay Link
BBIA Last Lipstick Red Series, Velvet Matte, Red Rose (04 Classy) 0.11 Ounce - eBay Link
PrettyDiva Jelly Flower Lipstick - Crystal Agate PH Flower Lip Moisturizer Lipstick, - eBay Link
CLIO Rouge Heel Velvet x Fei, Velvet-finished lipstick (Roasted Red) - eBay Link
Peach C 4Season MLBB Korean Lipstick - Semi-Matte Lipstick - Silky Finish and - eBay Link
YULIP LIPSTICK SUNSET PINK CORAL PINK COLOR LIPSTICK : Non-toxic, Organic, Clean, 100% - eBay Link
HERA Long Lasting Matte Lipstick Sensual Spicy Nude Volume Matte Jennie Picked Korean Lip - eBay Link
I'M MEME Matte To Go | Mini High-Pigment Matte Lipstick | 001 Automatic | K-Beauty Korean - eBay Link
EGLIPS Muse in Velvet Lipstick, Coral Rose (V003 Warm Vitamin) 0.06oz - eBay Link