If you love Korean glasses, you'll love us
Korean glasses are so adorable, cute, attractive, and trendy. If you are looking for perfect glasses that will make you look adorable and compliment your personality. Glasses are meant to be stylish, amazing, and complement your personality. As Korean glasses are to be considered they are the best you can get. There are different glasses for different face types and suit according to your jawlines and face complexion. These amazing summer glasses will make you safe from heat. It makeovers your look and gains compliments for you. It changes your look to more attractive and stylish. There are frames according to your every look, mood, and event. Glasses change your look differently, you can carry your personality as you want. For special events, you can grab a special frame that will make you more confident and stylish.
Editor's Recommendation: Top Korean Glasses You Will Love
How to pull off trendy Korean glasses?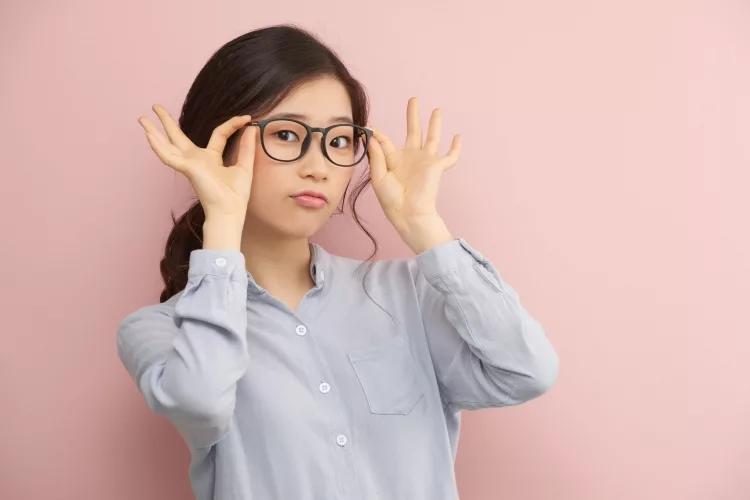 There are many trending glasses these days but you should choose your frame according to your face type and shape so it suits your face and looks more stylish. It will compliment your face and will go with the look you carry.
Square face
If you have a square face

As a square face with a strong jawline round-frame will compliment your face perfectly. It helps to overall soften your face. Any curvy frame can balance the sharpness of your square face angle. The round frame with thin rims will go perfectly on your square face. Gold or silver round thin rim frames is perfect for such face type. The black-rim round frame will give you a perfect business look. The dark tortoiseshell round frame is all type and goes on every look and it looks super preppy.
Round face
If you have a round face

Like a round face, you should not choose round frame glasses it will make your face look more round so you should go with a square or rectangle-shaped frame. You should look for glasses which will give sharp and elongate your face. Two types of glasses go on a round face.
D-frame acetate :- It showcases your browline and sharpens your angles. It gives you a perfect classy look. This type of glasses is eye-catcher it will play down your cheeks.
Rectangular frame :-Rectangular frame on round face add a powerful touch to your personality. Proper classy and old-school type of look it carries.
Oval face
If you have an oval face

An oval face is an ideal face shape as it has a balanced proportion. so you can carry almost every frame. Still, there are some exceptions so square frames are the perfect frame for an oval face. The square frame adds length to your face shape. A full bold black square frame will give you a very stylish look for every event. Also slim-delicate not so the square frame will give you a classy and allegiant look.
Heart-shaped face
If you have a heart-shaped face

As you have a wider forehead, a trapped chin, and high cheekbone. Three types of frame will go with your face cut.
Round frame :- As your face shape the glasses with smooth edges go well and gives you a perfect look. It counters your sharp angles and compliments your face shape well. It also draws attention to you and gains compliments for you.
Cat-eye frame :- Cat-eye always adds a glamorous look and gives you a classy look. It draws everyone's attention and helps you to gain compliments. It gives you vintage touch and adorable stylish look.
Aviator-style frame :- An aviator slim-rim frame gives you a perfect glamorous look and colored aviator rim frame gives you a feminine look for every occasion.
Diamond-shaped face
If you have a diamond-shaped face

A diamond-shaped face is rare ones with a narrow chin and narrow forehead. You should go with a round type of frames so it can soften your sharpness. Five types of frames suit your face cut.
Octagon frame :-It is the most trendy frame these days and looks classy. It gives you an elegant look. with slim-rims, it gives ventage touch and perfectly goes with your face type.
Hexagonal frame :- This type of frame is trending nowadays. Its funky frame speaks up for themselves and gives you a perfectly stylish and classy look.
Rimless-acetate frame :- It gives you a proper mature and intellectual look. That specks up for you and gives you a confident look. As you carry it you look dam classy.
Cat-eye frame :- It gives you a playful and sassy look. It adds elegances in your face. Cat-eye is the perfect type of frame your face cut needs.
Oval frame :- It is the most simple elegant frame suits on your face. It gives you a perfect casual look for your official meetings and event.
Top 12 Best Korean Glasses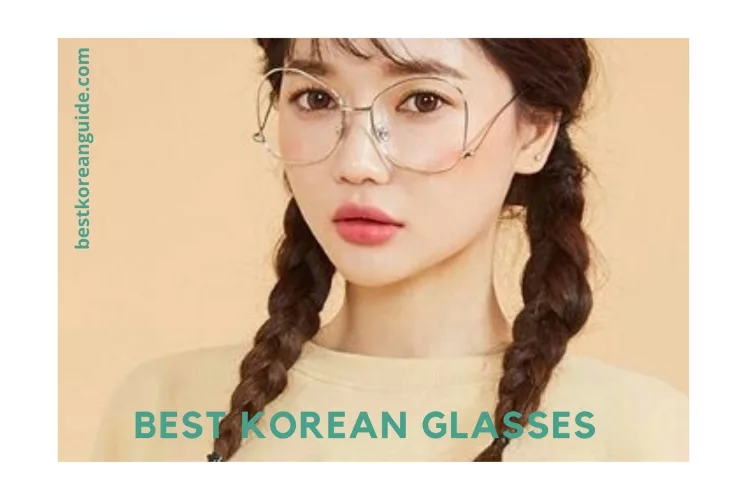 What is it about an eyeglass that makes it stand out from the others as well as makes it comfortable to wear? Well, there are a lot of qualities that contribute to this factor. Almost all of them are constituted in the Pro Acme Classic Eyeglasses. To know more about what kind of a product it is, let's take a look at this product's details:
Metal eyewear, which comes in several frame shapes, is more durable and tougher to shatter. When heat is applied and sunshine, solid metal frames do not tarnish. Metal eyeglasses are significantly lower in lightweight and hence more convenient.
Plastic eyewear lenses are extremely translucent, allowing for improved viewing and clarity. Higher Intensity Resistance: Plastic optics are extremely long-lasting. They do not shatter readily on impact, making them an excellent alternative for anyone who remains sporty or frequently loses their glasses.
The non-polarized lens provides light-shielding and does not include a constructed polarizing prism to reduce glare from bright surfaces. If you've been around lake, snow, or glass, this provides protective eyewear but doesn't address shimmer and shine.
This eyewear has an average yet perfect and the most suitable lens width of 50 mm.
The arm length is 136 mm, giving a comfortable experience to the owner.
Non-prescription spectacles featuring a retro classic oval freestanding style and clear lenses (Rx-able). You may put this on as a fashion statement. Of course, you may have your corrective lenses at any neighborhood optical eyeglasses store to substitute them. It is suitable for both men and females.
30 Days Money Back Guarantee
Amazon guarantees your complete satisfaction. If you're not satisfied with the product before thirty days, simply let them understand and Amazon will start taking care of it. You have nothing to lose by giving it a go.
Instead of using chemicals or ethanol to clean your eyeglasses, use soapy water. To avoid compromising the filter's qualities, please use clean, non-abrasive cloths. Use only authentic spare parts and garments.

Now, let's take a look at some of the factors that make these eyeglasses take place on the list of the best eyeglasses:
Replaceable Lens with Blue Light Blockage
Relieve the severity of visual discomfort caused by lengthy periods of computer use. To preserve normal sleep patterns and eye protection, these glasses are best utilized for lengthy periods of desktop use. Any retailer can change the existing optics with your corrective lenses.
Those specular reflection cat-eye spectacles are composed of strengthened metal panels, super soft nose cushions, and robust spring latches, all of which ensure flawless performance. Different nose shapes can be accommodated by soft silicone nose pads. Reduce the strain on your nose's bridge and develop a fresh sense of style.
Economical and long-lasting. Due to the obviously customizable temples and nose shields, these fashionable blue-light-blocking spectacles are suitable for both larger and smaller heads. Our eyeglasses are suitable for lengthy amounts of time in front of digital devices or your future trip out of downtown.
It is a metal frame.
It has non-polarized glasses.
It is the full-rim round frame for the office look.
Adjustable nose pad and a sturdy structure so it makes the frame more durable.
Fits on all types of faces.
Colors :- black, pink, towny, retro black, gold, tortoise/black, and black/gold.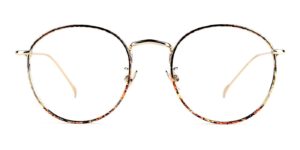 Komehachi - Ultra Light Slim Round Metal RX-Ready Clear Lens Eyeglasses Frame
It is made of ultra-light metal.
It has a polymer resin lens.
The anti-scratch coating on lenses.
Get fit on every type of face.
colors :- black and brown.


DONNA Stylish Clear Lens Frame Glasses
High-quality metal.
Scratch resistance coating.
stainless steel resists from corrosion.
Lightweight and durable.
Vintage round frame with tortoiseshell frame.
Reduce eye-straining during the use of a computer or phone.
colors :-amber, black, contrast, gradient blue, matte black, pink, purple amber, red, tortoiseshell, transparent blue, transparent gold, transparent grey, and transparent green.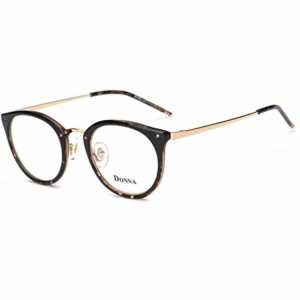 "Fairy"Vintage Inspired Classic Half Frame Glasses
Plastic frame and plastic lenses.
It is a non-polarized glasses.
It gives you 100% protection against UV rays.
Longlasting and very comfortable.
colors :-black silver, black/gold, clear frame, thick black frame/ gold-rimmed, thin black/silver, tortoise frame/gold-rimmed, and tortoise/gold.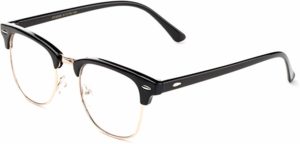 Comfortable to wear.
Non-prescription lenses.
Longlasting.
Durable.
colors :-(clear lens) marble, (blue light blocking) gold fade, (blue light blocking) pink, ( blue light blocking) tortoise, ( clear lens) black, (clear lens) clear blue, (clear lens) clear tawny, (clear lens)gold fade, (clear lens) pink, (clear lens) tortoise,(clear lens)tortoise/black, (clear lens) transparent/black.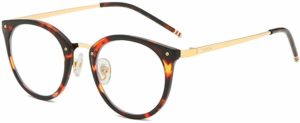 It is a metal frame.
Plastic lens.
It has a non- polarized lens.
comfortable and longlasting.
colors :- full black, full gold, and silver.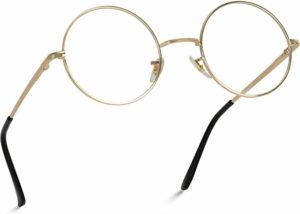 It has a metal frame.
Plastic lens.
Metal round glasses.
Clear lens.
Adjustable nose grip.
comfortable and durable
colors :- gold, gunmetal, and silver.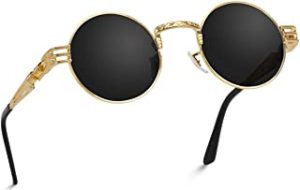 Non-Prescripted you can change the lens.
It has a metal frame.
Plastic lens.
Quality product and durable.
Extremely comfortable.
colors :-gold frame/clear lens, gold-blue light glasses, black frame/ clear frame, bronze frame/ clear lens, gold line frame/ clear lens, gunmetal frame/ clear lens, and silver frame/ clear lens.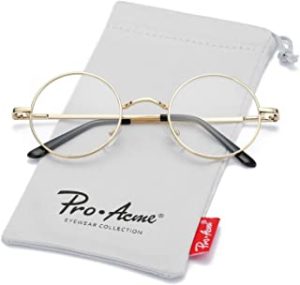 Joopin Semi Rimless Polarized Sunglasses
It is synthetic glasses.
It has a composite lens.
Fully polarized lens.
Comfortable and durable.
colors :- all black, black metal, blue mirror lens, brilliant black frame grey lens, brilliant black frame, brown, G15, gold metal frame, leopard frame, leopard silver, matte black/grey lens, metal frame blue lens, retro black, retro leopard/blue, retro leopard/olive, retro leopard/ pink, and shiny black.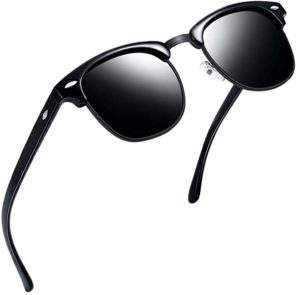 Clear Lens Glasses Round Sunglasses
It has a metal frame.
Plastic lens.
Circle clear lens.
Comfortable and durable.
Protect against harmful UV rays.
colors :- gold, gold frame/ clear lens, transparent round frame, and large gold hippie.


Top 8 Best Cutting-Edge Korean Eyewear Brands
Korea's vogue culture is sweeping the globe of eyeglasses. As Koreans swiftly strive to become one of Asia's high fashion capitals, Korean eyeglasses manufacturers thrive on original innovations. Seoul Fashion Week has shifted its focus away from the catwalk onto street-style themes each year. More Korean designers are gaining traction, and here are ten of the most inventive and unique Korean ophthalmic firms.
1. Grafik:plastic - Link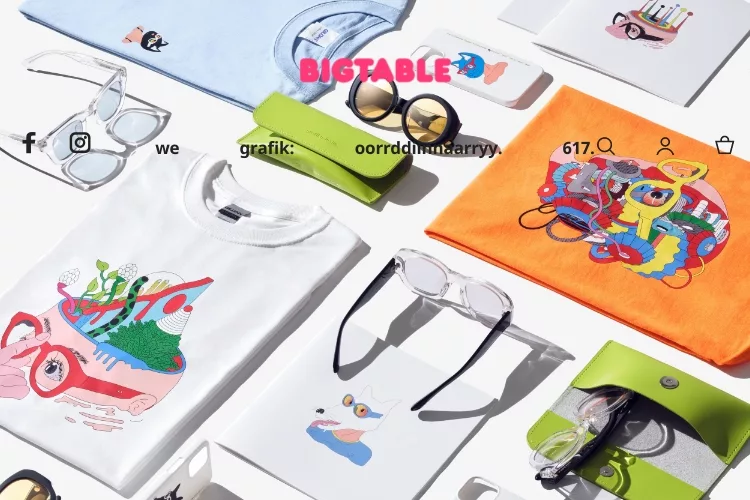 Grafik:plastic is a Seoul-based Korean eyeglasses company that specializes in spectacles and shades. Their items are especially popular around local trendsetters and superstars in Korea, Singapore, Hong Kong, Japan, and the United States, and their aesthetic is inventive, contemporary, and simplistic. The front or bases of traditional eyewear are securely joined together again to create a chassis; however, the foundations of the Grafik Plastic collection's glasses and sunglasses are removable and may be adjusted as per the wearer's wants.
The front and temples are securely combined to form a framework in traditional eyeglasses style. That's not the case with the glasses and sunglasses in the Grafik Plastic line, where the bases are removable and may be altered as per the user's preferences. The chapels are already available in a variety of hues, and the maker has guaranteed that new varieties will be released regularly.
2. Truth Eyewear - Link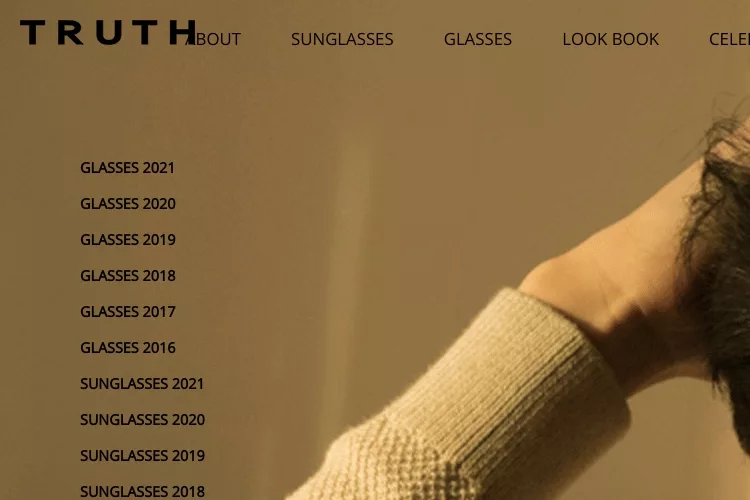 Beyond the notion of just creating eyeglasses, Truth Eyewear produces eyewear that makes your eyes happy. Specializes in handcrafted metal and plastic eyeglasses, as well as the most up-to-date trendy eyewear.
The truth would always win out. On the globe, be kinder without sacrificing excellence. Their spectacles have received CE and FDA approval.
100 % ultraviolet protection is provided by their glasses (UVA & UVB). Developing a framework that is lightweight, pleasant, and also has 'tango' durability and protection at about the same moment. Oh, and they're all handcrafted.
Significantly lowering the carbon intensity of manufacturing while preserving the eyeglasses artistry. They've teamed up with a family-owned, socially conscious company in the EU. Before they reach you, each pair goes through 42 separate steps of manufacture and quality assurance.
3. NYBK Korea - Link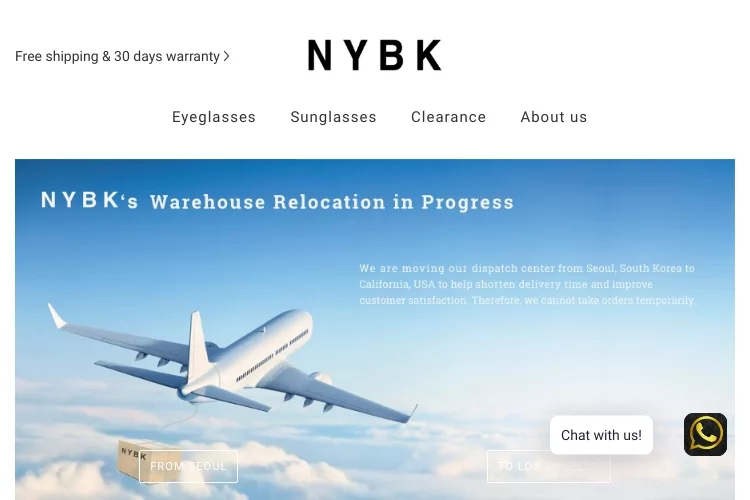 NYBK is a company established by a group of highly talented entrepreneurs from Parson's School of Design in New York, the country's greatest fashion school. NYBK out from its F/W 2013 range, expressing profound influence through their many style developers and designers onto accessories and has since been favorably accepted by trailblazers worldwide. NYBK items are made on the very same assembly line as several upscale European competitors, using the same high-quality components. NYBK can circumvent cumbersome distribution networks, allowing the company to achieve its high goal of providing fashion-conscious customers with accouterments at a ground-breaking price point.
4. Irresistor - Link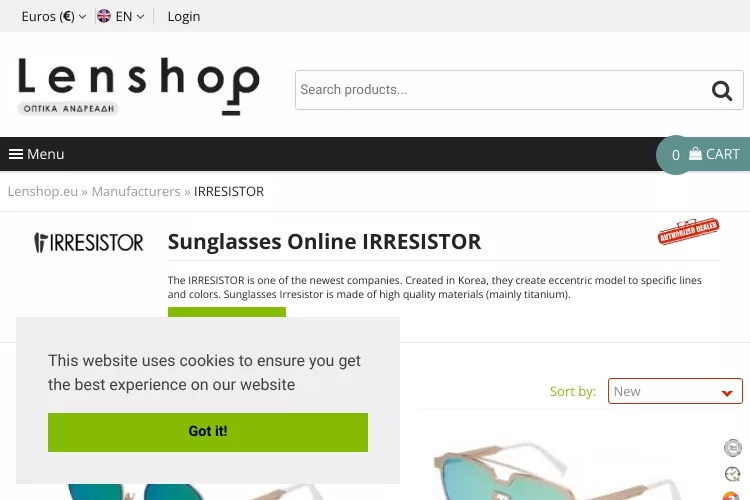 As the name suggests, this brand is responsible for creating some of the most irresistible fashion statements of all time. Designers reinterpret the Manifestations and produce interesting and new works under the notion of 'Blended Soul,' that is the ethos of IRRESISTOR. The 'Style Agenda' is suggested by IRRESISTOR's design identity encompassing fashion, artwork, culture, and leisure.
5. Muzik Eyewear - Link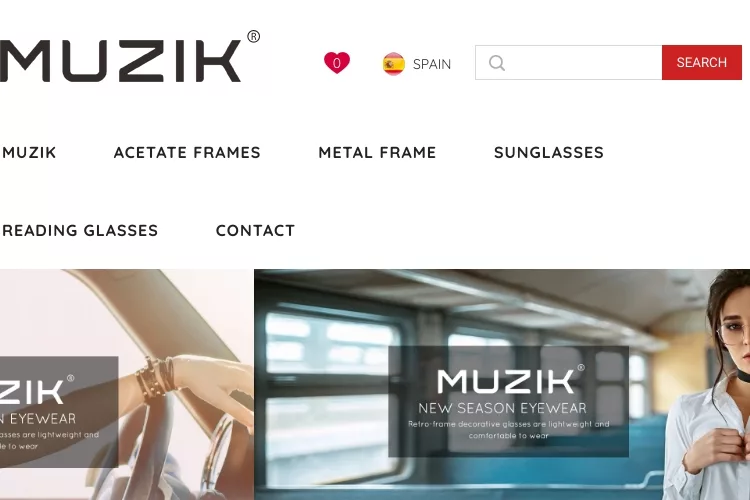 MUZIK is a Korean design agency founded by design professionals with backgrounds in filmmaking, fashion, marketing, and the creative and eyewear industries in England, France, and Korea. The stylish eyewear label MUZIK was formed in 2013 as the first creation of MUZIK workshop. All MUZIK eyeglasses are made in France by Louis, a French designer with over 30 years of expertise in the eyewear business and a commitment to quality. MUZIK is also employing a DIVEL Milano sun lens, which has a rich history dating back to World War II.
Music is used to inspire the appearance of MUZIK spectacles. All of the goods are named after musical genres, and the casing, which includes a true analog speaker, was created with the idea of "enjoying music alongside people" in mind.
6. Gentle Monster - Link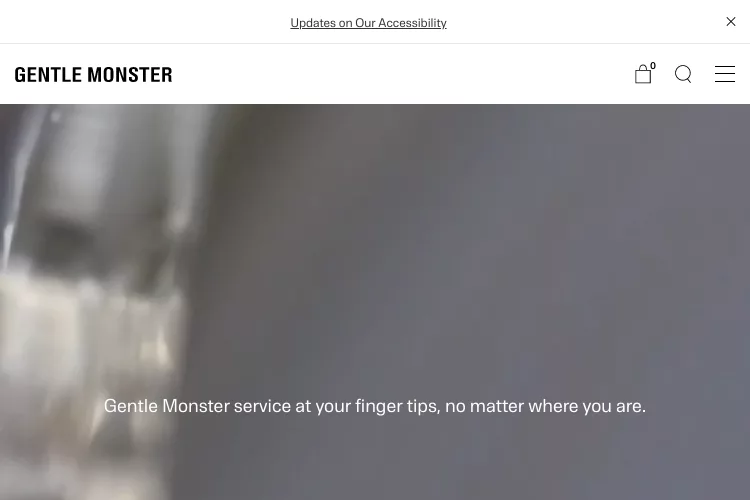 Gentle Monster is a fashion label that has always been evolving according to its "high-end exploration" concept. With their five primary areas of goods, place, style, cultural makeover, and technology, we want to astound the globe. Gentle Monster's brand concept and purpose are communicated via innovative and distinct designs, as well as collaborations with TOME, CHRIS HABANA, PUSHBUTTON, JAIN SONG, GROUND ZERO, HOOD BY AIR, OPENING CEREMONY, and others. In Seoul, Korea's Sinsa Showroom has opened a merchandise service department for clients. You would not only obtain a device diagnostic and care assistance on the same day as the visit, but you can also get recommendations for item care techniques that are appropriate for your environment. All of the care is provided in a one-on-one setting with a specialist. Internet registration is advised if you want an implemented and managed with no waiting time.
7. Caliphash - Link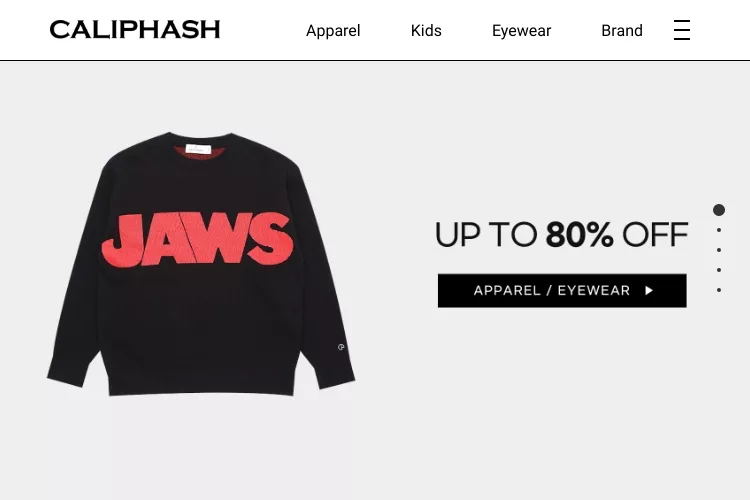 Caliphash takes a traditional and nouvelle attitude to all of its creations, stepping in the atmosphere of Dark and Gothic. Caliphash has indeed been motivated by lambskin artists since 1996 and has produced unique designs that place a premium on workmanship. Caliphash's tagline for all of its creations is "Darkness Most Beautiful," which focuses on researching and communicating the majesty of darkness.
All of our designs begin with a notion of many hand sketches. They're combined into the brand's identification, the architect's feelings, and the creator's surroundings, and the creative program commences.
8. Pez Verde - Link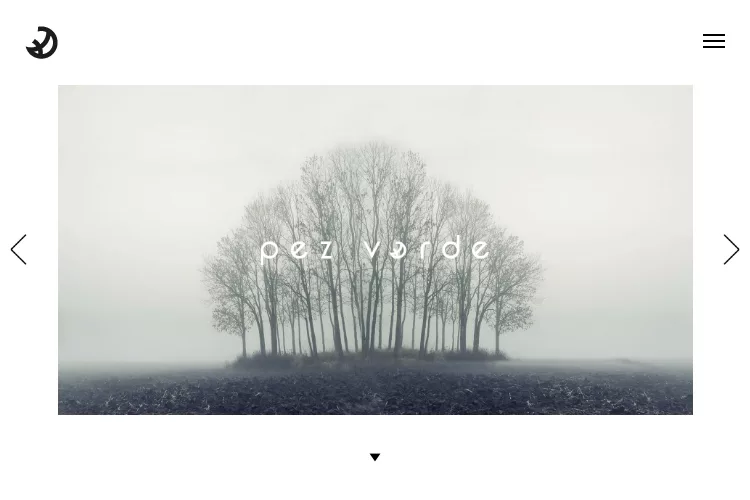 "Pez Verde" is a Latin term that combines the words (fish) plus (green) to imply "green fish." The significant elements of traditional style have been redesigned as elegant but futuristic based on morphological and chemical aspects of glasses. Green has been understood as a symbol of balance, unity, vibrancy, energy, and vitality that should be included in any layout. Their pastel-colored sunnies are a welcome contrast from the usual mainly black shades. The complementing flash mirror-treated lenses add to the 'Gaze' effect.
Korean Glasses Frequently Asked Questions
Can these be used with a prescription?
A. Yes, just verify with your local optician.
Do they actually work as sunglasses?
A. They are for fashion but they provide UV protection.
Do these frames feel sturdy?
A. Yes, they are sturdy.
Are these frames are glare?
A. No issues are found with glaring till now.
Do the gold framing peels off over time?
A. No, they don't.
Reccomended Read:
Buy on Walmart
Super Oversized Round Circle Frame Clear Lens Glasses Silver - Walmart Link
SOJOS Cat Eye Blue Light Blocking Glasses Hipster Metal Frame Women Eyeglasses She Young - Walmart Link
SOJOS Retro Big Round Blue Light Computer Glasses TR90 Eyewear Frame Ashley SJ9001 with - Walmart Link
SOJOS Retro Round Blue Light Blocking Glasses TR90 Big Computer Eyeglasses SJ9001 with 2 - Walmart Link
Madison Avenue 2 Pack Blue Light Blocking Glasses Oversized Cat Eye Blue Light Glasses - Walmart Link
Buy on eBay
Super Oversized Round Circle Frame Clear Lens Glasses Silver - eBay Link
SOJOS Cat Eye Blue Light Blocking Glasses Hipster Metal Frame Women Eyeglasses She Young - eBay Link
SOJOS Retro Big Round Blue Light Computer Glasses TR90 Eyewear Frame Ashley SJ9001 with - eBay Link
SOJOS Retro Round Blue Light Blocking Glasses TR90 Big Computer Eyeglasses SJ9001 with 2 - eBay Link
Madison Avenue 2 Pack Blue Light Blocking Glasses Oversized Cat Eye Blue Light Glasses - eBay Link