Having oily and sweaty skin? How you take care of sweaty skin? How you clean it? Which type of cleanser do you use to wash your face? If you wanna take proper care of skin and make it look fresh and young you must buy water-based cleanser. In that also, if you find naturally made cleanser then it will be cherry on the top.
So when you decided to buy natural water-based cleansers, Korean water-based cleansers are all-time best products you have for your skin.
We have studied some of the best Korean water-based cleansers.
Editors' Picks: Top Korean Water Based Cleansers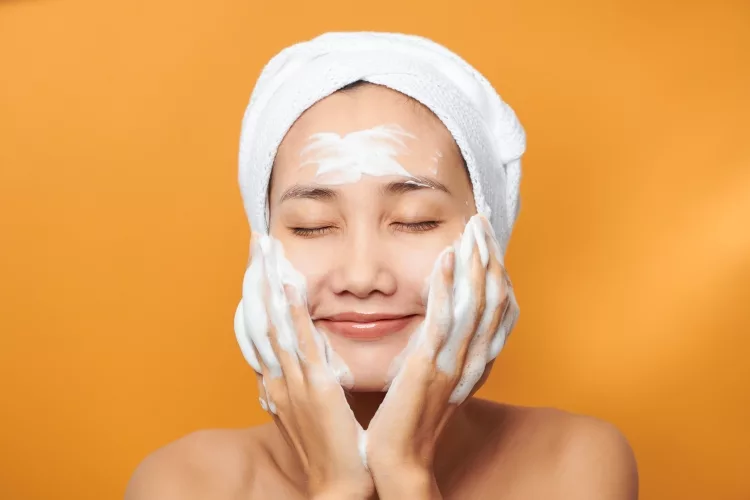 Top 8 Best Korean Water Based Cleansers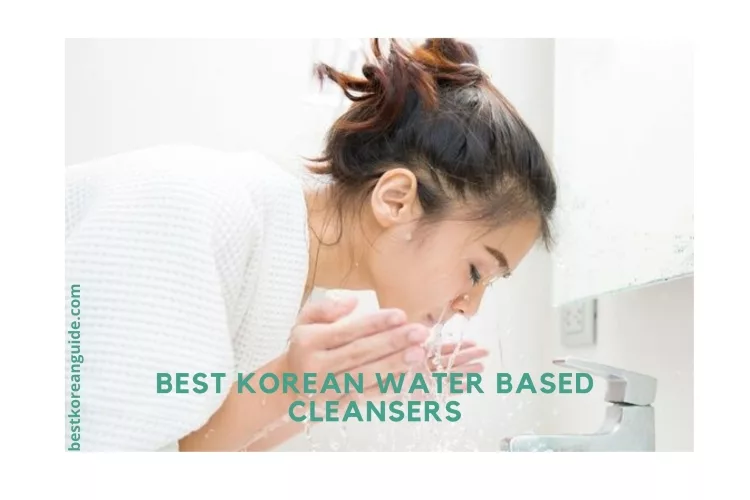 ETUDE HOUSE Wonder Pore Freshener Deep Cleansing, Sebum Control cleanser - Link
Are you looking for natural pore cleansing, Sebum controlling cleanser? here we have reviewed the best Korean water-based cleanser which will give you baby soft skin. Etude House Wonder cleanser is one of the best Korean water-based cleansers which intensely work on the dirt and sebum which is clogged in your skin pores and throws them out the dirt by proving you healthy, smooth, hydrating and nourished skin.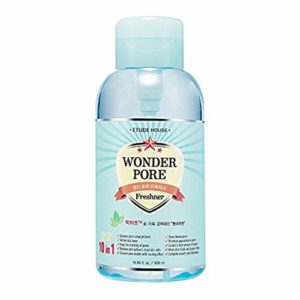 Ingredients used Green Tea leaves extract, pines tree leaf extract, artemisia argyi leaf water
Features
Its intensive pore care tightens up your skin
Efficiently cleanses the pores with its special peppermint extract.
Balances the pH level in your skin
Prevents skin problems which are caused by pH imbalance
Mineral oil-free
Paraben-free
Calms irritated skin

Innisfree Jeju Volcanic Pore Cleanser - Link
This is an awesome Korean water-based cleansing foam which will immediately make your skin feeling very refreshing. It is excellent for absorbing dirt and sweat. It deeply penetrates your skin and cleanses it very well. It effectively clears clogged pores that may lead to acne. It gently exfoliates your dead skin. It makes your skin soft and clear.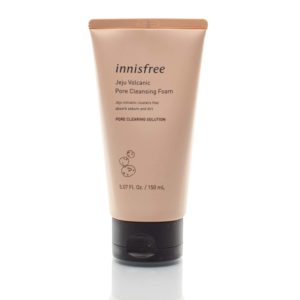 Innisfree Jeju Volcanic Pore Cleanser Reviews And User Guide

Ingredients used All natural ingredients are included in this cleanser like Water, Glycerin, Jeju Volcanic Cluster, Green Tea Extract, Tangerine Peel Extract, Prickly Pear Extract, Brassica Campestris (Rapeseed) Flower Extract, Mineral Water (Water from Volcanic Rock in Jeju), Bamboo Extract, Cryptomeria Japonica Leaf Extract, Fragrance, etc This one works great on dry skin, thus makes it amazing facewash for dry skin.
Green Tea and Bamboo Extracts give your skin a very soothing and nourishing effect.
Features
Absorbs sebum strongly
Clears pores
Reduces acne
Makes skin soft and soothe
Chemical-free cleanser
Makes your skin look young
Very moisturizing and hydrating
One of the Best Korean water-based cleanser
Reduces formation of blackheads
Paraben-free

The Face Shop Rice Water Bright Light Cleanser - Link
If you have combination skin and the problem of sweatiness, you must try this amazing face shop rice water bright light cleansing oil which will remove sweat effectively. This cleanser will take off all dirt and sebum from your pores and make them more breathable resulting in soft, moisturizing, and nourishing skin. I can bet that this is one of the best Korean water-based cleansers because it uses rice water to cleanse the face. Ancient Korean royal ladies of the Joseon dynasty used rice water to clean their faces. Great cleanser for combination skin in k-beauty.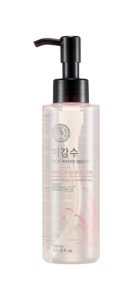 Ingredients Used rice water, minerals, moringa oil, soapwort extract, jojoba oil
Features
Makes your skin soft and nourished
Rich in vitamins A, B, and E
Brightens up your skin
Best for combination skin
Purifies skin cells by removing dirt and makeup residue
Improves the appearance of skin pigmentation
Full of anti-oxidants

Mizon Snail Cushion Foam Bubble Cleanser - Link
It is cushion foam cleanser which forms a dense marshmallow cushion on your skin which makes tired skin radiant and firm. This amazing cleanser is specially formed with snail mucous extract. It reduces the formation of blackheads.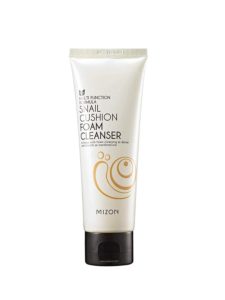 Ingredients used are Aqua, glycerin, beeswax, snail secretion filtrate, macadamia integrifolia seed oil, aloe barbadensis leaf extract, morus alba bark extract, lactobacillus/soybean ferment extract, salix alba (willow) bark extract, cinammonium cassia bark extract, organum vulgare leaf extract, chamaecyparis obtusa leaf extract, scutellaria baicalensis root extract, portulaca oleracea extract, laminaria digitata extract, red ginseng extract, phytosqualane, dioscorea japonica root extract, piper methysticum leaf/root/stem extract, beta-glucan, hydrolyzed corn starch, sodium chondroitin sulfate, sucrose, fragrance
Features
Makes your skin firm and radiant
Provides deep cleansing
Cleanses heavy makeup and clogged pores effectively
Best Korean water-based cleanser for sensitive skin
Provides brightening care
Ideal Korean water-based cleanser for combination skin
Paraben and chemical-free

KOSE SOFTYMO Speedy Cleanser - Link
Kose Softymo speedy cleanser mixes with your natural oil, Sebum, sunscreen, dirt on the skin, and sweat and removes them completely giving you best-glowing freshness. It also removes strong mascara very quickly. It also removes dead skin cells and gives your skin soft touch. This cleanser will help your skin to be soothing and soft.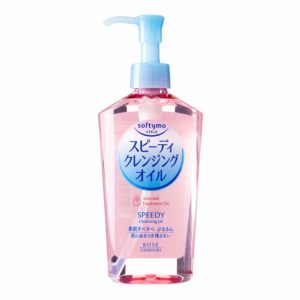 Ingredients used olive oil, jojoba oil, sesame oil, safflower oil, and shea butter.
Features
Removes makeup and stubborn mascara very effectively
Ideal Korean water-based cleanser for dry skin
Cleans your skin thoroughly
Brightens your skin
very hydrating
Paraben-free
All natural ingredients are used

ETUDE HOUSE Moistfull Collagen Cleanser - Link
Etude House Collagen Cleansing Foam is a very affordable Korean water-based cleanser that you can ever have in your makeup bag. It is easy to use and very effective when you travel a lot. It cleanses your skin very effectively. Gives gentle cleansing with its moist collagen small size superparticles. Its smooth, buttery, and thick foam liquidates skin's impurities and leaves the skin moisturized. Its 2 in 1 formula makes your skin super silky smooth. Super collagen water gives hydration to make your skin bouncy and dewy, while White Lupin contains seed-derived protein to make your skin nourished.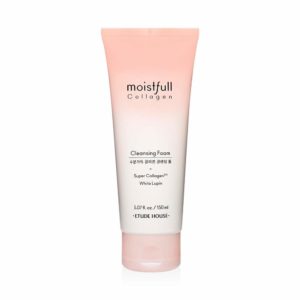 Ingredients used water, aqua, myristic acid, Glycerin, Fragrance, citric acid, lactic acid, White lupin, collagen water
Features
Makes your skin moist
Made up of natural ingredients
bouncy bubble foam cleanser makes your skin super soft
Proving deep cleansing of pores
Keeps your skin away from acne

COSRX Low pH Good Morning Gel Cleanser - Link
If you are looking for gel type cleanser, here is the solution. You must try COSRX gel cleanser. This is a low pH cleanser that does not irritate your skin. It is a very good cleanser for day to day use. It exfoliates the skin with the natural BHA ingredient. It also helps to maintain optimal skin balance. It is the perfect Korean gel cleanser. It is a mild cleanser that removes excess sebum from your skin and makes it look beautiful and young.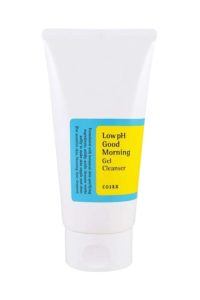 COSRX Low PH Good Morning Gel Cleanser Reviews And User Guide

Ingredients Used are Water, Cocamidopropyl Betaine, Sodium Lauroyl Methyl Isethionate, Polysorbate 20, Styrax Japonicus Branch/Fruit/Leaf Extract, Butylene Glycol, Saccharomyces Ferment, Cryptomeria Japonica Leaf Extract, Nelumbo Nucifera Leaf Extract, Pinus Palustris Leaf Extract, Ulmus davidiana Root Extract, Oenothera Biennis (Evening Primrose) Flower Extract, Pueraria Lobata Root Extract, Melaleuca Alternifolia (Tea Tree) Leaf Oil, Allantoin, Caprylyl Glycol, Ethylhexylglycerin, Betaine Salicylate, Citric Acid, Ethyl Hexanediol, 1,2-Hexanediol, Trisodium Ethylenediamine Disuccinate, Sodium Benzoate, Disodium EDTA
Features
Keeps skin hydrated
Best to use as a second cleanser
Free from Sodium Lauryl Sulfate
Suitable for all skin types
Gently removes impurities

Skinfood Natural Gentle Facial Cleanser - Link
Skinfood natural facial cleanser is a daily use cleanser to remove your daily makeup, dirt, and sebum making skin soft and glow. It is made up of natural ingredients. It also made paraben-free, and cruelty-free i.e does not test on animals.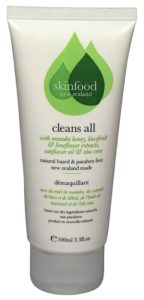 Skinfood Natural Gentle Facial Cleanser Reviews And User Guide

Ingredients used Manuka Honey, Kiwifruit, Lime flower extracts, Sunflower oil, and Aloe Vera; natural plant-based ingredients
Features
Gently removes dirt
Helps to remove dark makeup with an ease
Paraben-free
Cruelty-free
Makes skin baby soft
Best affordable Korean water-based cleanser
Buy on Walmart
MEDIHEAL Charcoal Intensive Pore Clean Cleansing Foam 150ml (5 fl.oz.) - Formulated with - Walmart Link
KLAIRS] Rich Moist Foaming Cleanser, hypoallergenic face wash, for sensitive skin, 100ml, - Walmart Link
THEFACESHOP Rice Water Bright Foam Cleanser 150ml - Walmart Link
MIZON Snail Repairing Foam Cleanser, Korean Snail Face Wash, Mild and Soft Face Cleanser - Walmart Link
DERMALOGY by NEOGENLAB Real Fresh Foam Cleanser, Green Tea, 5.6 Fl Oz - Walmart Link
Sulwhasoo Gentle Cleansing Foam 6.7 Oz Women, 6.7 Oz, 200ml (I0088602) - Walmart Link
COSRX Low pH Good Morning Gel Cleanser, 5.07 fl.oz / 150ml | Mild Face Cleanser | Korean - Walmart Link
Missha Super Aqua Oxygen Micro Visible Deep Cleanser - Walmart Link
BENTON Tea Tree Cleansing Water 200ml (6.76 fl.oz.) - Contains 70% Tea Tree Leaf Water & - Walmart Link
Buy on eBay
MEDIHEAL Charcoal Intensive Pore Clean Cleansing Foam 150ml (5 fl.oz.) - Formulated with - eBay Link
KLAIRS] Rich Moist Foaming Cleanser, hypoallergenic face wash, for sensitive skin, 100ml, - eBay Link
THEFACESHOP Rice Water Bright Foam Cleanser 150ml - eBay Link
MIZON Snail Repairing Foam Cleanser, Korean Snail Face Wash, Mild and Soft Face Cleanser - eBay Link
DERMALOGY by NEOGENLAB Real Fresh Foam Cleanser, Green Tea, 5.6 Fl Oz - eBay Link
Sulwhasoo Gentle Cleansing Foam 6.7 Oz Women, 6.7 Oz, 200ml (I0088602) - eBay Link
COSRX Low pH Good Morning Gel Cleanser, 5.07 fl.oz / 150ml | Mild Face Cleanser | Korean - eBay Link
Missha Super Aqua Oxygen Micro Visible Deep Cleanser - eBay Link
BENTON Tea Tree Cleansing Water 200ml (6.76 fl.oz.) - Contains 70% Tea Tree Leaf Water & - eBay Link