Raising the bar for sensational cushion foundations…
Cushion foundations have recently become all the rage! And I know a lot of people out there have been asking about them and trying to know what they are. So, let us begin by understanding what these cushion foundations are and how they are different from the normal foundations. The cushion foundations are nothing but the BB cream but in a compact form, this makes it a combination of skincare and makeup. These cushion foundations were first made by the Korean beauty market, it is because of them that we get to use such kind of revolutionized beauty product. As we go through the cushion foundations, there are literally hundreds of them in the market right now so considering that there are so many new brands in the market. Cushion foundations have always been very popular, but even if we take the past few months there are so many new brands in the Korean market that are jumping on the bandwagon and making their cushion foundation. Some have even more like 3 different versions and formulas already so not just the Korean beauty market but now the whole world is manufacturing it but we know that the Korean products are outstanding in the beauty market. So this makes it even harder to try and find and decide the right one for you here we'll see a quick review of the best Korean cushion foundations so that you can choose the right one for your skin.
Editors' Picks: Top Korean Cushion Foundations
Top 10 Best Korean Cushion Foundations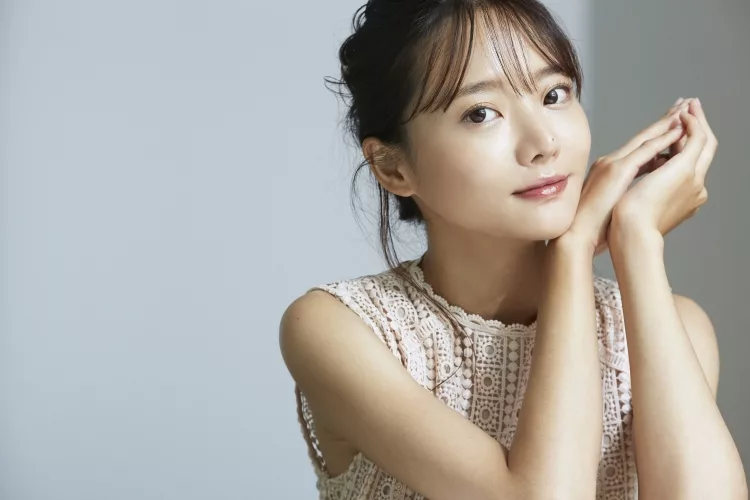 MISSHA M Magic Cushion
The fine cushion foundation purveyors
The Missha magic cushion foundation is a type of compact foundation which gives you the freedom to carry your foundation around with an easy application process. It gives you the long-lasting impression of the foundation applied. Most of the foundations might give complete even coverage and other properties but they forget to add the moisturization factor, but this is not the case with the Missha cushion foundation. This foundation doesn't leave the skin dry, instead, it keeps the skin moisturized as long as you have the foundation on. This is a great deal for the people with dry skin problems, as they do not have to apply a lot of moisturizers on their faces and even then the foundation would dry up their skin. The special feature of this cushion foundation is that it is neatly layered with the magic fit powder on its top. As the makeup lasts longer the foundation doesn't get darker over the time, it remains fresh as it has just been applied. Its nondrying cushion keeps the cushion moist so it is ready for use anytime anywhere. The plant extracts help in giving you a fresh and smooth look without drying your skin. You don't have to use a lot of products as you used to do with your foundation only the slightest dab of the sponge into the product 1 to 2 times is enough to cover your face and you don't even have to flip the sponge more often.
Shades
#21 for natural light beige
#23 for natural medium beige
#25 for warm beige
#27 for honey beige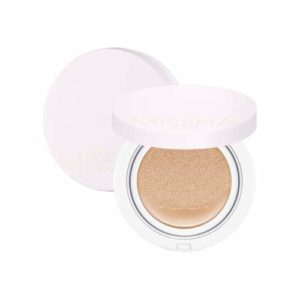 L'Oréal Paris True Match Lumi Cushion Foundation
The cushion foundation technicians.
L'Oréal Paris cushion foundation is just as the liquid foundation captured in a cushion but, instead which gives you the perfect amount of makeup on your skin. The benefits of owning a cushion foundation are that it is convenient to carry and apply anywhere. This cushion foundation gives you a fresh and glowing finish after its application. The product is designed in such a way that only a single dab on the product would give you that perfect finish, but if you wish to get more build then you must go for more taps. This formula is precisely designed to blend into your skin. This cushion foundation is safe for all types of skin, let it be oily skin, dry skin or acne-prone skin and at the same time is even safe for sensitive skin types. Like other foundations, this cushion foundation does not clog the pores on your skin. The product includes an anti-microbial applicator puff for spreading the makeup on your face. It is available in 16 various shades to match your skin tone. This cushion foundations applicator can be washed in the warm water using a gentle soap and air dry it completely before using it for the application of the product on your skin.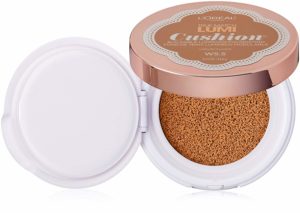 [LANEIGE] "NEW2016" BB Cushion
The smart choice for cushion foundation fans.
The Laneige Cushion foundation focuses on pore visibility after the application of the foundation. This cushion foundation gives your skin a complete touch without drying your skin. It makes your pores completely invisible. If you are unable to find your perfect matching shade you can apply the color correction to get the foundation to match your skin tone. It lasts for a very long time, for as long as 12 hours. This cushion foundation gives you sheer to light coverage according to your need and blends in perfectly with the skin without leaving any blemishes. Such a cushion foundation helps you get the quick touch-up of your makeup on the go. It controls the oiliness of your skin while keeping it slightly damp and moisturized. It reduces the unevenness of the skin and covers the pores leaving the skin fresh and perfect for up to 12 hours. This product is light and easy to use and keeps the facial fluid discharge from destroying the makeup. So, in short, this cushion foundation is preferred because it works for people with oily skin problems. It gives you a clean, even, and matte finish. Stays longer on the skin and has no sticky finish.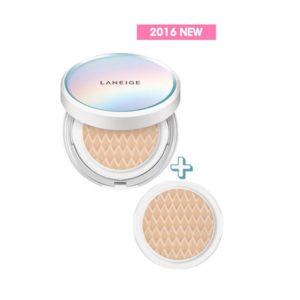 AMOREPACIFIC Color Control Cushion Compact
Only the best cushion foundation.
AMOREPACIFIC Color Control Cushion Compact consists of SPF 50, which blocks 98% of UV rays. If you don't know what SPF is, let me clear that SPF is the sun protection factor which is a measure of how well a product protects human skin from the harmful UVB and UVA radiation of the sun. This cushion foundation compact gives you complete coverage of the product and at the same time keeps your skin hydrated and is anti-inflammatory. The technology used to make this cushion foundation converts the liquid formula into a refined emulsion which is then applied with a non-absorbing applicator that helps in the complete skin coverage. The cushion foundation is targeted towards the filling of the fine lines and the spreading of colors into fine layers giving you a long-lasting finish. The green tea present in it gives you a bright and fresh look and even prevents skin irritation. The hydrating bamboo sap formula is used to make the cushion foundation more moisturizing. This cushion foundation works perfectly even on sensitive skin.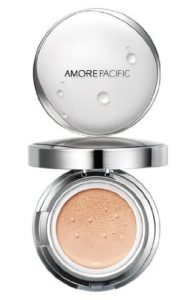 MISSHA MAGIC cushion foundation
The foremost source for everything cushion foundation.
Missha magic cushion foundation is a long-lasting foundation, which gives you high coverage and keeps your skin hydrated. It moisturizes your skin while giving you the perfect blend of foundation looks. The magic fit Korean powder is neatly layered over the top of the cushion foundation. Even if you keep the foundation on for a long time it won't darken your makeup or skin. The extracts give you a fresh and glowing look. The cushion foundation covers your entire face, just by lightly dabbing your sponge applicator over the foundation. There is enough product left on the applicator sponge after many uses and the sponge doesn't even harden after the use and remains fresh for a long time. The cushion foundation is lightweight and very easy to apply to the face. It even has a scent that lingers and the product lasts up to 6 hours, smooth, moist, and gives matte look without getting cakey and dark.
Shades
#21 for natural light beige
#23 for natural medium beige
#25 for warm beige
#27 for honey beige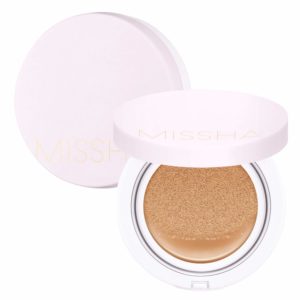 Clinique Super City Block BB Cushion
We take pride in our cushion foundation.
Clinique super city block cushion compact is a liquid perfection in a compact. It gives you a sheer to light coverage as you dab it over your face. It is perfect on the go compact with a puff applicator. This cushion foundation has SPF 50 which protects your skin from the harmful UVA and UVB radiation coming from the sun. This product suits all skin types, let it be the oily skin type, dry skin type, and the sensitive skin type. Each package contains 12 grams of the foundation in the compact. Clinique cushion foundation gives a complete and smooth foundation and does not look cakey. It gives your skin the perfect moisturized, glowing and dewy look. It stays on your skin up to 5-6 hours without getting your makeup dark, cakey and is smudge-proof up to 6 hours.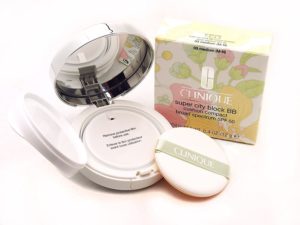 BAEBAE Mountain Goat UV Cushion
The experienced cushion foundation technicians.
Baebae mountain goat UV cushion foundation is specially designed for all mothers and mothers to be. It is a designed smudge-proof foundation that does not smear keeping in mind the safety of your newborn and the small kids. Along with all these benefits, it comes with a matte finish that lasts all day without smudging or getting darker. The Baebae cushion foundation is infused with the extracts of mountain goat's milk. It is a luxury cushion foundation that keeps your skin moisturized all day long, along with the anti-aging benefits. This Korean cushion foundation keeps your skin hydrated all day long and helps in hiding the pores and fine lines on your skin leaving you visibly toned skin. This formula lasts on your face for an entire day without getting cakey and keeping all your skin moisturized and hydrated without fading the color of the product and this even protects your skin from the harmful UV radiation coming from the sun as it has the SPF 50+. This product is completely safe on your skin as it is clinically tested.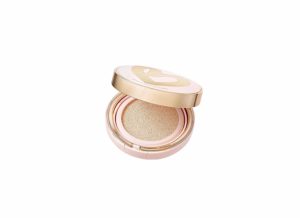 INNISFREE Water Fit Cushion
Beyond cushion foundations.
INNISFREE water fit cushion foundation comes in a compact. It is nothing but the liquid foundation formulated in a compact. It gives you the flawless glowing skin you always wanted and it doesn't even feel like you have the foundation on. It is so small and compact that you can carry it with you in your purse anywhere you want for the last movement touchups. The mirror inside can get a little dirty due to the applicator which has the foundation on it, but to prevent this I would suggest you keep the plastic cover on and remove it whenever you need to use the mirror. This cushion foundation formula has the dewy mist and gives your skin the hydrating finish after applying it on to your face. It gives you small to medium coverage and covers all the dark spots, pimples, redness and gives even tone to the person who has the patchy and uneven skin tone. This cushion foundation formula consists of a Jeju green tea water filling effect which gives the skin a fresh and moisturized effect. It gives you complete coverage with few touches, it is lightweight and feels like your skin. The refreshing lightning oil gives proper nourishment for the gentle smooth skin, whitening effect and has the SPF 34 PA ++ which means that only 1 out of 34 UV rays reach your skin when you apply the INNISFREE cushion foundation on your skin. Let us see the application of the product in short; get the appropriate amount of product on to the applicator by patting it gently and dab it evenly all over your face and if you need the sheer coverage then repeat the process and keep the cap of your cushion foundation closed when not in use to prevent it from drying.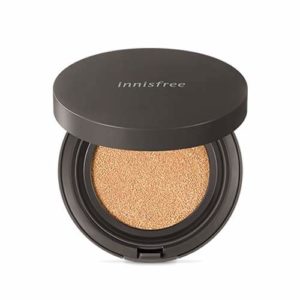 MIBA COLORMIN TONE UP SUN CUSHION
Slick cushion foundation.
This is a 25g which is twice as much as any other product provides at this price range. It is pink in color and makes the face glow hiding most of the scars, pigmentation, and redness. After you take some product on the applicator, pat it on your skin and you won't feel that there is anything applied on your skin. It has all the natural ingredients with brightening effects. When you apply this cushion foundation you will feel your skin getting a little tighter. The Miba colormin cushion foundation consists of a lightweight formula that bonds with the skin instantly and provides an excellent full even layer coverage along with the hydration benefits. It lightens whitens and brightens your skin; and reduces the fine lines, dark spots, blemishes, etc.
MIBA COLORMIN TONE UP SUN CUSHION Reviews

MIBA COLORMIN TONE UP SUN CUSHION Reviews

Nesee Pretty Comy Mushroom Air Cushion
The devoted cusion foundation purveyors
The Nesee pretty cushion foundation gives you complete coverage by hiding the redness, dry patches. It has a high hydration level and it also balances the sebum levels (an oily substance secreted by your body's sebaceous gland) which helps in reducing pimples, skin irritation and prevents sigh of aging. This cushion foundation provides lightweight texture for a long-lasting effect. Its fresh cushion help in even blending of the product on your face moisturizes the inner skin and makes your outer skin look smooth and gives a long-lasting effect. It is perfect for doing instant makeup that gives you a natural look that is long-lasting, waterproof, sweat proof and lasts all day. The mushroom sponge is easy to clean, the sponge head gets bigger and softer when it comes in contact with water, it is portable to store and carry easily, is skin-friendly. It does not consist of sunscreen is available in natural and ivory white color and each pack contains 20g of the product. This is a rejuvenating formula that provides the skin with hydration and nourishment with the lightweight and non-oily effect.
Must Read: Top Rated Primers in K-Beauty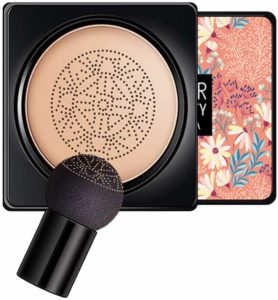 Nesee Pretty Comy Mushroom Air Cushion Reviews

Final Word for Korean Cushion Foundations Buyers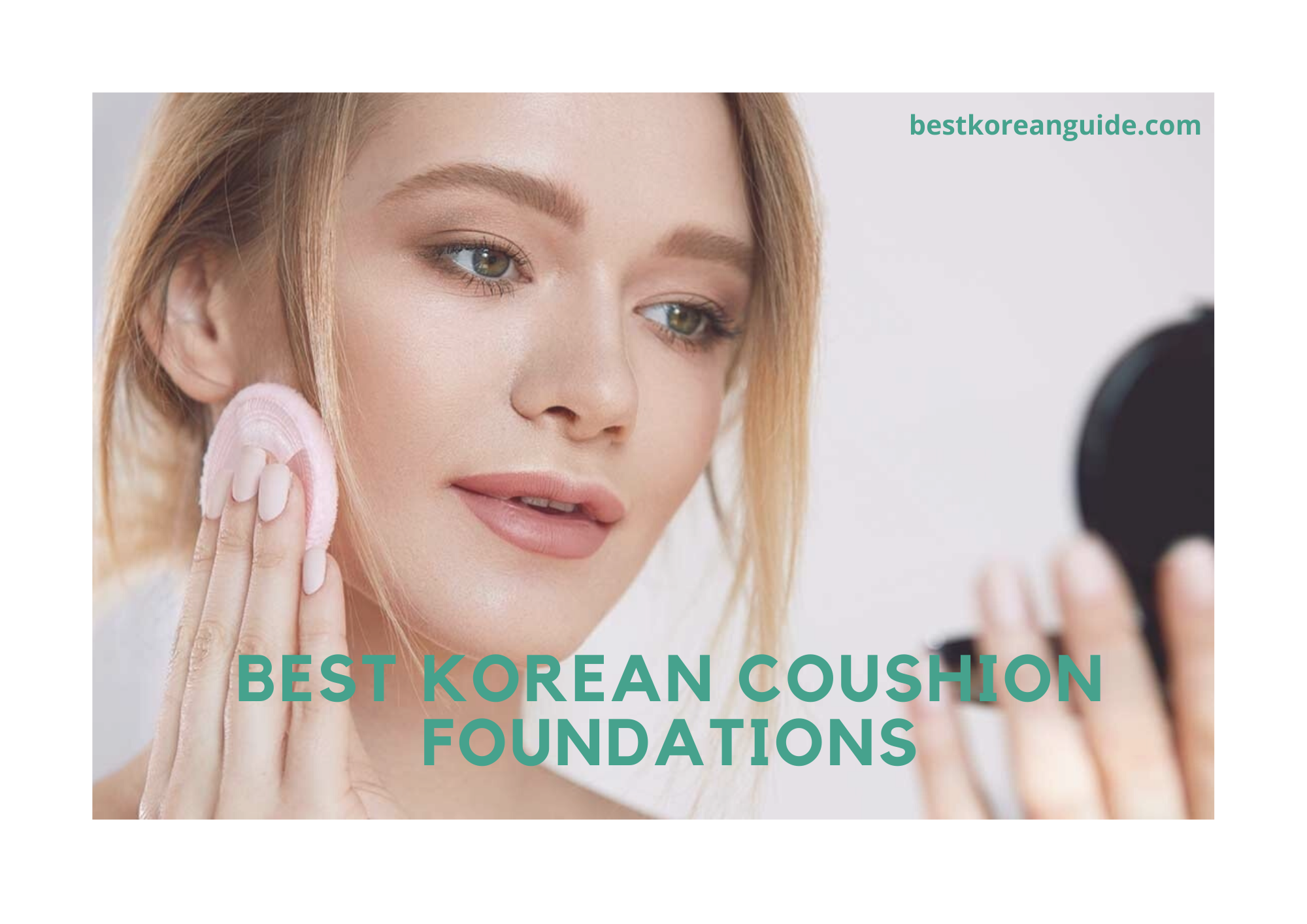 If you are planning to use a cushion foundation for 7-8 hours, then we will recommend you to invest in MISSHA M Magic Cushion Foundation as it is very long-lasting and used by many makeup professionals all over the world.
If you are looking for something which is affordable and a great value product then you must have a look at Nesee Pretty Comy Mushroom Air Cushion.
Buy on Walmart
MISSHA MAGIC CUSHION COVER LASTING #27- Long-lasting, high coverage/hydrating cushion - Walmart Link
CLIO Kill Cover Glow Cushion | Longwear Coverage, Natural Glowing Effect, Long-Lasting - Walmart Link
Age 20's Compact Foundation Makeup, Essence Cover Pact SPF50+ Sunscreen - Walmart Link
April Skin Magic Snow Cushion SPF 50+ / Pa+++, No. 23, 15 Gram - Walmart Link
TROIAREUKE H+ Cushion Foundation (Shade 23), SPF50+ PA++++, Natural Coverage Foundation - Walmart Link
Beauty People Absolute Radiant Girl Cushion Foundation SPF50+ PA+++(18g)(2 Color) (#23 - Walmart Link
Superface Zoom In Mesh Cushion, SPF 50+, PA+++ Oil Control, Anti-Wrinkling, Anti Redness, - Walmart Link
Sulwhasoo Evenfair Perfecting Cushion, 21 Natural Pink, 4 Ounce - Walmart Link
AMOREPACIFIC Color Control Cushion Compact Broad Spectrum SPF 50+, 106 - Walmart Link
[moonshot] Micro Settingfit Cushion Lightweight Sheer Skin Foundation 201 Beige 0.4oz - Walmart Link
Sulwhasoo Perfecting Cushion Brightening SPF50 Plus, 2015, No.21 Medium Pink, 6.08 Ounce - Walmart Link
IOPE Air Cushion SPF 50+,Natural Coverage Foundation Makeup, Moisturizing Finish for - Walmart Link
Buy on eBay
MISSHA MAGIC CUSHION COVER LASTING #27- Long-lasting, high coverage/hydrating cushion - eBay Link
CLIO Kill Cover Glow Cushion | Longwear Coverage, Natural Glowing Effect, Long-Lasting - eBay Link
Age 20's Compact Foundation Makeup, Essence Cover Pact SPF50+ Sunscreen - eBay Link
April Skin Magic Snow Cushion SPF 50+ / Pa+++, No. 23, 15 Gram - eBay Link
TROIAREUKE H+ Cushion Foundation (Shade 23), SPF50+ PA++++, Natural Coverage Foundation - eBay Link
Beauty People Absolute Radiant Girl Cushion Foundation SPF50+ PA+++(18g)(2 Color) (#23 - eBay Link
Superface Zoom In Mesh Cushion, SPF 50+, PA+++ Oil Control, Anti-Wrinkling, Anti Redness, - eBay Link
Sulwhasoo Evenfair Perfecting Cushion, 21 Natural Pink, 4 Ounce - eBay Link
AMOREPACIFIC Color Control Cushion Compact Broad Spectrum SPF 50+, 106 - eBay Link
[moonshot] Micro Settingfit Cushion Lightweight Sheer Skin Foundation 201 Beige 0.4oz - eBay Link
Sulwhasoo Perfecting Cushion Brightening SPF50 Plus, 2015, No.21 Medium Pink, 6.08 Ounce - eBay Link
IOPE Air Cushion SPF 50+,Natural Coverage Foundation Makeup, Moisturizing Finish for - eBay Link