Eye shadows are fun and easy to play with and they change your look in a jiffy. Korean eye shadow palettes kind of give a bad rep and yes I was one of those people that perpetuated that stereotype that Korean eye shadow palettes kind of suck and here's a thing I don't take it back because a lot of eye shadow palette I've tried have been rough but I do notice that if you take yourself away from the cheaper road shop brands, the quality is complete 180 degrees, its completely a different game you are talking about, and when you start using more expensive Korean eye shadow brands which are kind of bomb, super convenient and there is a huge difference in their quality. Also if you apply eye cream before applying eyeshadows it will be a great nourishment for your skin. Here we are going to introduce some of the Korean eye shadow palettes which one is the best, what is it that you can pick up.
Top Korean Eyeshadow Palettes by Editors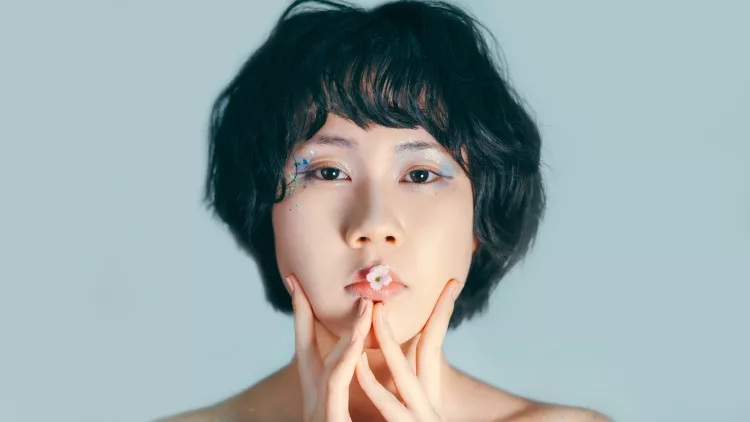 Must have eye shadow palettes.
I have divided my must-have eye shadow palettes into three categories. The first one is the neutrals, the second one being shimmery party eye shadows and the third for the once who are not very big on eye shadows and still want to experiment with them. I know that you are not an eye shadow lover but you might just want to play around your look sometimes. Neutral eye shadows are a must-have in everyone's vanity. The blurred nude shades are perfect for anyone who wants to go for that romantic soft look. And for the one who wants to go for a summery but neutral vibe at the same time can go for the perfect mix of nude and blush nude pallets. If you want to attend a semi-formal party in which you want to look both glammed up and descent then you must go for the matte satin and shimmery shades. If you are the one that loves to have colors on their eyelids must go for a color variety eye shadow palette. Now not every one of you might be an eye shadow lover but if you want to play around with your look sometimes then you must try the minimal eye shadow which has very little color in them but with a variety of neutral and colorful eye shadows.
Top 10 Best Korean Eye-Shadow Palettes
Peripera Wholly Deep Jewel Pot
Holds skin tightley, and is made smudge-proof.
• It can survive water, sweat, and sebum.
• It gives you a long-lasting effect by staying on the eyelids throughout the day.
• It has a fun texture like mochi that sticks your eyes without getting collected at a place.
• There are so many shades that can be used to create the depth and dimensions in your eyes.
• It is waterproof and its micro satin pearl formula gives you the lightweight effect.
• comes in a cute pot like the packaging of 3 grams.
Clings tightly to your skin in a single swipe and withstands water, sweat and sebum to keep a deep and defined look all day.
• This innovative eye shadow has a fun, mochi-like texture that clings to the eyelid without creasing or fallout.
• On-trend, versatile shades to create perfect depth and dimension.
• The micro satin pearl formula delivers a weightless wash of soft shimmer on the eyes!
• Get that beautiful alluring look this season.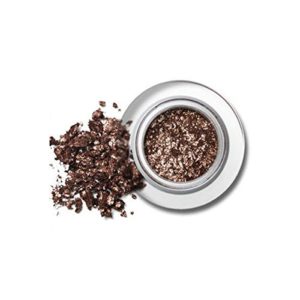 CLIO Pro Layering Eye Palette
This eyeshadow palette has the basic shade as well as the natural shades for the daily makeup look along with the different colors for creating new looks by mix and matching.
• You can use your finger or the brush was given to apply the eye shadow evenly with the desired color above your eyelids and at the lower eyelash corner.
• To get a more vibrant look put a base color and apply the glitter eyeshadow at the inner corner of your eyelids.
• Each container contains 0.02 ounces of the eyeshadow.
• The color of the eye shadow may change due to your skin tone.
• It has a color shade from the natural colors that can be used as the base to the bright funky colors.
• Has variations of eye shadow styles form the matte to glitter and crystal glitter.
• The color stays on for a long time and does not gather on the eyelids.
• It has a compact eye mirror.
• double end brush with pointy edge and wide side to spread the eye shadow evenly.
• comes in various color shades.
• First Hug in matte can be used as the Base color for Warm skin tone color.
• Letter Me in glitter can be used as Glitter point, Opal white glitter.
• Poppy pearl in Shimmer pearl color, Reachable pink shimmer pearl.
• Love Jam crystal glitter Point color, Deep pink glitter packed with white crystal pearls.
• Serendipity matte Medium shading color, Toned-down pink-brown with an air of elegance.
• Love Rise matte Light shading color, Lovely coral pink color with spring mood.
• Lucky You glitter Glitter point, Opal pearl pink glitter.
• Love Maze pearl Shimmer pearl color, Subtle pink-brown sprinkled with white pearls.
• Time to Love matte Medium shading color, Soft milk brown color.
• One Kiss matte Point shading color, Deep red-brown for easy blending.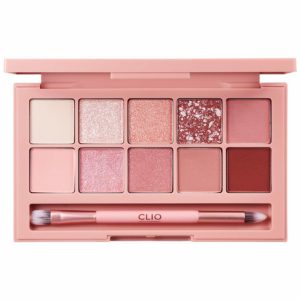 The New Nude Eyeshadow Palette
Deeply pigmented eyeshadow which has 18 different shades.
• The eye shadows have a smooth and velvety texture.
• The palette consists of 10 highly-pigmented matte, 4 reflective shades,2 glitters, 1 pressed pearl and 1 concealer base shade.
• Matte, shimmer and glitter kind of eyeshadow palettes will take you through every season, granting you every color of eyeshadow you need.
• Great to explore colors and makeup artistry. Suitable for many different occasions, like casual, salon, party, wedding, etc.
• Cruelty-free ingredient and lightweight formula.
• It gives you a creamy butter-like application and also easily blendable and buildable.
• Waterproof and long-lasting so that you can keep your stunning eye makeup all day long.
• This eyeshadow palette has multi-reflective shades with different shimmering pearl flecks that have the most amazing duo-chromatic finish.
• It also has a stunning pressed pearl formula and a concealer base that you can apply before eyeshadows to give them the perfect finish.
• Has 18 pigment-rich colors, serious staying power, and incredible blend-ability.
• It is created with the highest quality ingredients and the most updated, ultra-micronized,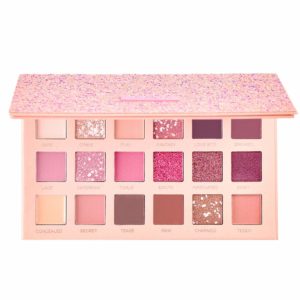 Etude House Play Color Eyes Caffeine Holic
It is a 10 color eye shadow palette.
• Consists of daily deep coffee colors for caffeine lovers.
• Comes in a pack of 0.8 grams each.
• Coffee Brown, and deep color shades that compliments your eyes.
• These colors will help you achieve the stunning eye makeup for which the colors like pink-red brown colors are a perfect choice.
• It gives your eyes a soft and silky texture that sticks on your eyelids for a long time.
• The base color is adhesive with a vivid and clear point color from base to pearl.
• It is a long-lasting eye shadow.
• To make them last longer do not store them at high temperatures and direct sunlight.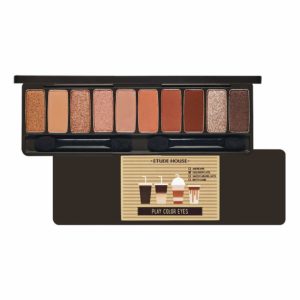 Etude House Play Color Eyeshadow
It is a 10-color eye shadow palette with deep, rich wine colors.
• How to apply with the enclosed tip's wider surface?
• Spread base color onto eyelid and with tip's narrow surface, apply shadow for gradation, eye edges, or delicate application to lash line.
• Do not use the product on scars or any area of skin irritation such as dermatitis and eczema.
• Keep the product clean for the next use.
• Do not share it with others.
• Avoid extremely high and low temperatures and keep out of direct sunlight.
• Keep the product out of the reach of children and babies.
• pleasantly pigmented
• Asian eye shadows are generally meant to be more of a sheer wash of color than super intense pigment like Western eyeshadows generally are.
• The palette is very compact and cute! Nice quality plastic and nice feel to it. The sponge applicators are nice quality and work well to build up the color or do details like a soft liner or highlight.
• With beige colors like the one on the far right, you need to use fingers to apply so that the color is saturated, but with the vibrant colors, even nude color, the second to the right, the playoff is very nice even if you choose to use a brush to apply.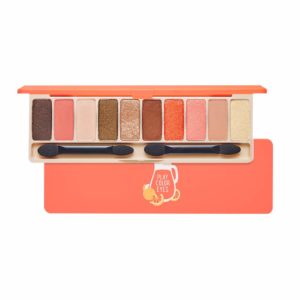 Etude House Play Color Eyeshadow
It has a 10 Colors eye shadow palette filled with sweet colors of freshly harvested peaches.
• With the enclosed tip's wider surface, spread the base color onto eyelid and with tip's narrow surface, apply the shadow for gradation, eye edges or delicate application to lash line.
• Use only as directed.
• Avoid storing in high and low temperatures and areas exposed to direct sunlight.
• It comes in a pack of 0.03 oz each.
• Peach-like eye shadow color will make your eye make-up look more romantic and lovely. You can do your make-up extra sweet with #PEACHFARM.
• It has a soft and silky texture.
• Soft and adhesive base with vivid and long-lasting color and pearl texture.
• Do not use on spots with injury, eczema, or dermatitis.
• Keep out of reach of infants and children.
• Do not store in a place with high and low temperature and direct sunlight.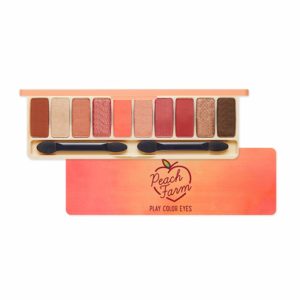 I'M MEME Multi Cube Eyeshadow Palette
A multi cube containing 4-color eyeshadow palette and a blusher.
• Create your daily makeup just in 5 steps.
• Cute design and portable size of the container along with a mirror allows you to fix your makeup anytime & anywhere.
• You can get the perfect mix and matches color variations by following the numbers on the palette as the steps of makeup to mix and match the colors and create a variety of makeup looks.
• It gives you a soft texture and high pigments give long-lasting eye makeup without creasing.
• Beneficial for the beginners to achieve the perfect look and try the mix and match method to create their own new styles.

Serseul Pigmented Eyeshadow Palette
The eye shadow palette color layouts has 1 duo-chrome + 4 shimmers + 7 matte eyeshadows packed in cardboard made palette.
• Has selected warm natural nude colors for providing a palette to create their basic everyday looks easily and professionally.
• The makeup eyeshadow palette formula is with creamy shimmer and matte shadows and easy to apply with a brush.
• With just one stroke you will get a lot of pigmentation on your eyes.
• The eyeshadow stays on all day long.
• To get the perfect look first prime your eyes, you don't need to dig or swirl your brush hardly to try to get the shadows, just swipe left and right twice, your brush will get rich pigments,
• Wet your brush when using shimmer, it will make the color more intense.
• This eyeshadow matches all kinds of skin-tone such as dark, fair, medium.
• The formula consists of intense and smooth pigments to achieve high performance.
• Daily Life Eyeshadow Palette: color ranges from matte to shimmer, you can easily find the right color for smokey, green, blue, pink eyes and so on.
• The pink glossy fancy paper was chosen as the palette's theme color, on the one hand, pink is pretty, eternally, on the other hand, glossy finishing makes the palette easier to clean and maintain.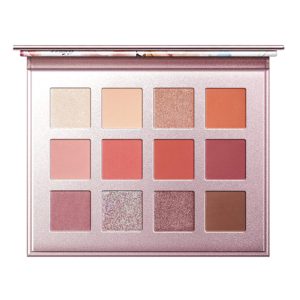 NYX PROFESSIONAL MAKEUP Ultimate Shadow Palette
This professional-level makeup palette that features 16 highly-pigmented eye shadows that glide onto lids & make eyes pop with color.
• Use with NYX PROFESSIONAL MAKEUP eyeshadow primer for bolder, longer-lasting color.
• Each high-quality eyeshadow palette features a highly pigmented mix of finishes from matte & satin to shimmery & metallic-perfect for your skin tone.
• Apply primer & build your look.
• Eyes pop with NYX PROFESSIONAL MAKEUP eye shadow collection.
• Choose from eyeshadow primer, matte eyeshadow, cream eyeshadows, gel eyeshadows, liquid eyeshadows, & more with a variety of different finishes to complete your look.
• NYX PROFESSIONAL MAKEUP is certified and acknowledged by PETA as a cruelty-free brand. They do not test any of our products on animals.
• Try with NYX PROFESSIONAL MAKEUP Setting Spray, to keep your whole look locked in all day long.
• For the long-lasting and perfect finish look start with applying NYX Professional Makeup Eyeshadow Base or any primer on lids.
• Apply base color all over with our Tapered All Over Shadow Brush, then use the Buffing Brush to apply the darkest color to your eyelids.
• Add highlights on the inner eye corner and brow bone to finish off your smokey eyeshadow look and blend well.
• A vivid mix of velvety-rich textures and mesmerizing finishes in mattes, satins, shimmers, and metallics.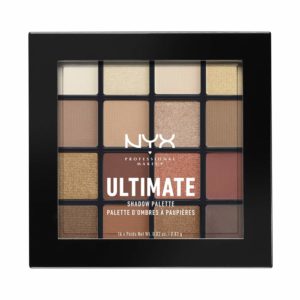 Etude House My Universe Eyeshadow
7-colors for eye & highlighter.
• Multi-palette resembling a pink color galaxy.
• The second color is Golden Galaxy.
• It has6 colors for eye & 1 color for highlighter.
• Apply base color on the entire eyelids.
• Apply gradation or point color on the tail of the eys and along the eye line.
• Express pearl tone with glitter.
• Naturally, apply highlighter on areas that need a brightening effect.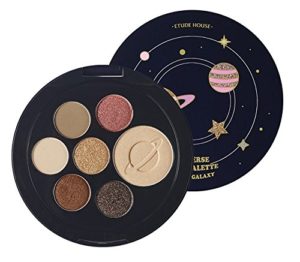 Buy on Walmart
[Holika Holika] Lazy & Joy Gudetama Cupcake Eye Paltte Shadow 6g (#01 Red Velvet) - Walmart Link
ETUDE HOUSE Play Color Eyes #Caffeine Holic | Vivid 10 Color Eye Shadow Palette with Soft - Walmart Link
CLIO Pro Eye Shadow Palette | Matte, Shimmer, Glitter, Pearls, Highly Pigments, - Walmart Link
ETUDE HOUSE Play Color Eyes #Juice Bar | Vivid 10 Juicy Colors Eye Shadow Palette with - Walmart Link
Serseul Eyeshadow Palette 12 Color Highly Pigmented Matte Shimmer Eye Makeup Pallet - Walmart Link
3CE Mood Recipe Multi Eye Color Palette #OVERTAKE 9 Tone on tone Eyeshadows - Walmart Link
I'M MEME I'M Color Pattern Palette | 6 Colors Eyeshadow and 1 Blush Palette | 001 Coral - Walmart Link
PONY EFFECT Conceptual Eyes Quad | Feel So Good | 4 Colors Eye Shadow Palette | K-Beauty - Walmart Link
[CHICA Y CHICO] One shot eye palette lovely pink, Mat, shimmer, glitter, vivid - Walmart Link
I'M MEME I'M Hidden Card Palette | Portable-sized 9 Colors Eyeshadow and 1 Blush Palette - Walmart Link
Holika Holika 19 JOYFUL SPANGLITTER (02 CHAMPAGNE PARTS) - Walmart Link
Holika Holika [Sweet Peko Edition] Peko Eye Shadow Palette (02 Milk Caramel) … - Walmart Link
Buy on eBay
[Holika Holika] Lazy & Joy Gudetama Cupcake Eye Paltte Shadow 6g (#01 Red Velvet) - eBay Link
ETUDE HOUSE Play Color Eyes #Caffeine Holic | Vivid 10 Color Eye Shadow Palette with Soft - eBay Link
CLIO Pro Eye Shadow Palette | Matte, Shimmer, Glitter, Pearls, Highly Pigments, - eBay Link
ETUDE HOUSE Play Color Eyes #Juice Bar | Vivid 10 Juicy Colors Eye Shadow Palette with - eBay Link
Serseul Eyeshadow Palette 12 Color Highly Pigmented Matte Shimmer Eye Makeup Pallet - eBay Link
3CE Mood Recipe Multi Eye Color Palette #OVERTAKE 9 Tone on tone Eyeshadows - eBay Link
I'M MEME I'M Color Pattern Palette | 6 Colors Eyeshadow and 1 Blush Palette | 001 Coral - eBay Link
PONY EFFECT Conceptual Eyes Quad | Feel So Good | 4 Colors Eye Shadow Palette | K-Beauty - eBay Link
[CHICA Y CHICO] One shot eye palette lovely pink, Mat, shimmer, glitter, vivid - eBay Link
I'M MEME I'M Hidden Card Palette | Portable-sized 9 Colors Eyeshadow and 1 Blush Palette - eBay Link
Holika Holika 19 JOYFUL SPANGLITTER (02 CHAMPAGNE PARTS) - eBay Link
Holika Holika [Sweet Peko Edition] Peko Eye Shadow Palette (02 Milk Caramel) … - eBay Link