There is a basic rule in picking out the right eyebrow product. In that, if you have light hair you want to go for a shade darker because this is going to complement your hair color and bring out your eyes a little bit more and then if you have dark hair you would want to go with a shade lighter or sometimes I like to say you go for the same shade as your roots. Your hair at the bottom can be quite a different color to the top of your head and you wanna make sure that the color of the root of your hair matches your brows quite nicely.
I think that's a really good place to look when picking out the right shade. However, you can subdivide that into categories of picking out the right tone. So, we know that the shade is from lighter to dark but your tone is uncool to warm to neutral. Now let us talk about the people who have lighter hair from a light brown to a platinum blonde or a grey color; you guys are divided into two sections, like any sorts of strawberry blonds to a reddish, orange or yellow tones in your hair then you are put into a warm category so you can go for any warm light shades.

If you have cool tones like mousey brown, ash blonde, a platinum blonde with no tone in it or the grey colors then you guys are in the cool tone. You have to make sure to go for cool browns, cool greys to make sure that you are complimenting your brown and your hair color. Same goes for the people with the dark hair, you have the warm colors which have red undertones, reddishness in certain sunlight; that kind of warmth in your hair then you also have the cool once.
These are the people who have neutral to no other tone in your hair or whether you have super jet black colored hair with no undertone. People in that warm category need to go for warm browns and burnt kind of colors, anything that compliments the hair will definitely complement their eyebrows as well. You must pay attention to your shade importantly because you don't want to go too dark with the brows.
Top Korean Eyebrow Pencil by Editors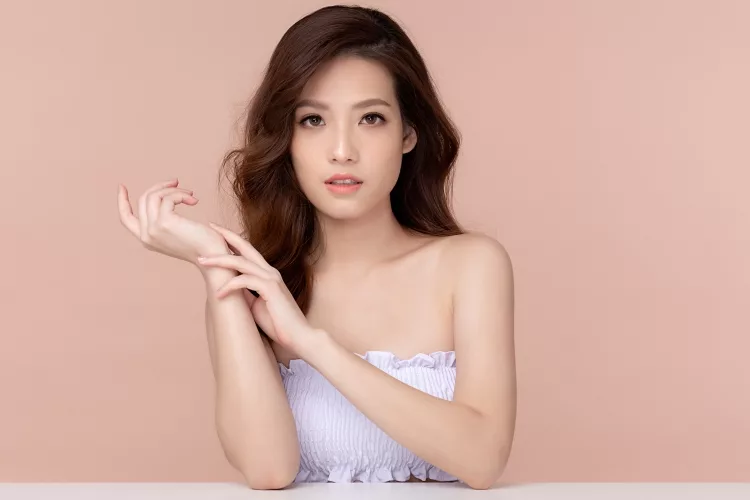 Top 11 Best Korean Eyebrow Pencil
After all, when you put the products on your brows it usually goes a bit darker than when it is actually on the actual pan itself. For the people in the cool category, if you want to go for the shades with an ashy grey kind of neutral tone in it make sure there is no warmth in it what-so-ever. You guys need to pay more attention to that because that is going to make the biggest difference to you. For the people that have black hair must stay away from black, you can mix up a little bit of black with maybe a slight grey color if you don't want to have any warmth in it but just stay away from using black solely by itself you can mix it up with other shades like a dark neutral brown with a little bit of black might be fine.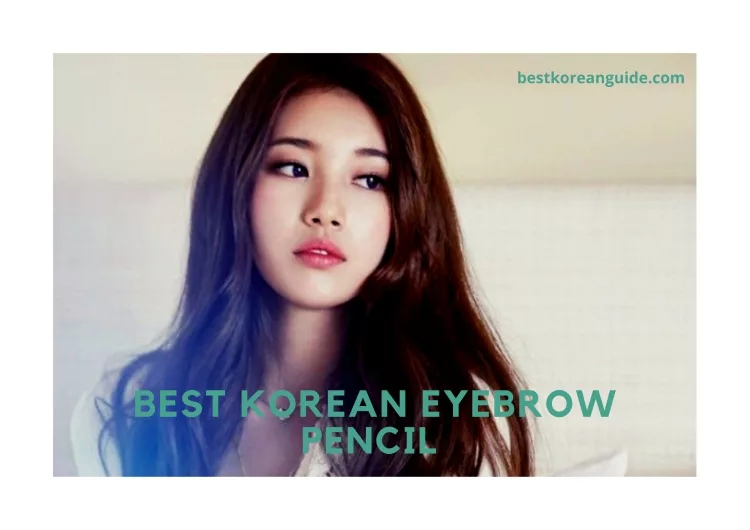 Pony Effect Sharping Brow Definer
Pony effect sharping brow definer eyebrow pencil is a mechanical pencil that has a super-fine tip of 1.5 mm tip so that you can get the perfect high definition hair-like strokes which will make it look like it is your own eyebrow. It also has a double-sided spoolie ( a spoolie is a spiral shape brush that is used in blending the eyebrow fillers with the original brow hairs) to blend the fillers of the brows and shape the hairs of the brow into their place. This eyebrow pencil has the properties of coconut oil that nourishes the hairs and don't let them damage the brows as they are exposed to chemicals. You can also create your own effects to your eyebrows as it posses the compelling and strong technical makeup. You can give your eyes a dramatic look with this eyebrow pencil.
Pony Effect Sharping Brow Definer

Pony Effect Sharping Brow Definer

TONYMOLY Perfect Eyes Sliky Touch Brow
TONY MOLY is a very well known product when it comes to the Korean beauty products they manufacture everything from lip care to skincare routine range and the makeup range as well. They produce a quality product when it comes to their reputation in the market. The makeup products manufacturing is a very responsible job to do as it may affect the person using it if made any mistake in the formula. To avoid such incidents the company check their products in the labs and test them before giving it to the people. They do not test any of their products on the animals as they do not support any cruelty against animals. These eyebrow pencils last longer throughout the day and do not get off easily even on rubbing. You must follow the usage guidelines and as this product is designed for the eyebrows it must be used for the eyebrows only to get the best result and do not cause any harm to your body.
Recommended : you can have eye masks at least once in a month to make your eyes feel nourished and relaxed

Revlon Brow Fantasy Brow Pencil
Revlon is another one in the list that is a reputed company in the Korean beauty industry that makes some of the awesome products. They have a class in all of their product as they work to provide their customers with the best products. This is a Revlon brow fantasy eyebrow pencil and gel it is a two in one product. the eyebrow pencil can be used when you need a fuller brow and you have very light eyebrows or you just want to accentuate the eyebrows for some occasion or you just like it the fuller way then you can brush up your brows select the perfect shade for your eyebrows that compliments your face and the hair color and fill it with the light strokes of the eyebrow pencil and once you are done filling the brow till you get the desire full look then you can just set all your brow hairs with the help of a brush and you can use the brow gel to set your brow hairs so that they stay at place when you go out and the whole eyebrow makeup lasts and stays at a place. This eyebrow pencil and gel set comes in the four different all natural looking shades so that you can choose the better for your face. The eyebrow pencil and the gel is given on the opposite ends of the eyebrow pencil, it gives you that sheer, tinted gel styled eyebrows. The eyebrow pencil and gel is shown in the picture is in the shade dark blonde.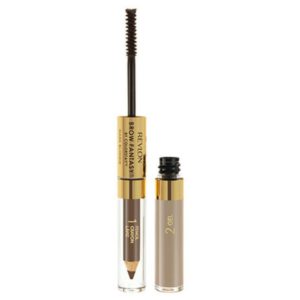 Anastasia Beverly Hills Brow wiz
Anastasia Beverly Hills brow wiz is a slim eyebrow pencil, it has a super-fine tip from where we can apply the product on our eyebrows to give them the fuller look or if you have the thin or patchy brow hairs you can fill them up and get those perfect eyebrows that compliment your hair color and your face structure along with the skin tone. It has a spiral shaped brush on the other end of the pencil as it is a two-headed eyebrow pencil where one side is the product which you apply on your eyebrow hairs and the other side consist of the spiral comb-like structure which you can use to shape your eyebrow hairs so that they do not wander in any direction and stay at one place to complete the look and show the effectiveness after you fill them up with the product. The specialty of this eyebrow pencil is that you can use this to outline your eyebrows and detail them as it has the thin tip so you can use it even for the finest details and you won't get them wrong. The fuller look of the brow pencil is due to the unique wax formula that adds extra texture to the eyebrows.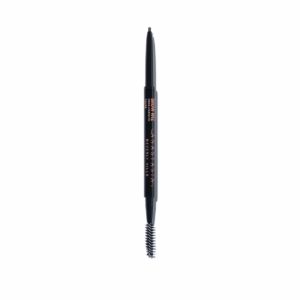 Etude House Drawing Eye Brow
Etude house drawing eyebrow pencil comes in a 0.02 pounds weight pencil. The etude house brow pencil is the dual head eyebrow pencil which has the mini spiral comb on the one side of the pencil and the other side has the specially designed edgy pencil tip which you can use to fill up your brows. The brow pencil shown in the picture is in the shade dark brown you can select the shade of your brow pencil according to your skin tone, hair color, and facial structure. To apply it for the better result just take the eyebrow pencil and fill it in between the eyebrow hairs where you see the patches and move the pencil slightly on the areas where you have the brow hairs to even out the whole eyebrow and give the perfect finish. The eyebrow pencil should be used as prescribed and you must avoid storing the eyebrow pencil at high temperatures and low temperatures, and do not expose the product in direct sunlight, to preserve its properties and save it from the damaging environment.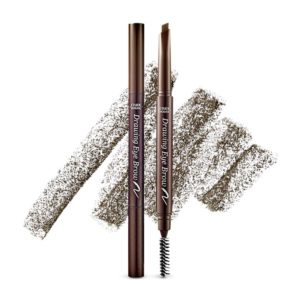 Laneige Natural Brow Auto Pencil Liner
Laneige natural brow auto pencil liner has two different things on two heads. On one side it has the spiral comb for your eyebrows and the other side has the eyebrow pencil to fill your eyebrows. This eyebrow pencil has a long-lasting effect as it stays on for the whole day without getting smudged even if you accidentally rub it. All you have to do for applying the eyebrow pencil is that just pull the lead gently and use the pencil on your eyebrows. It is up to you if want the fuller look or just the light touch up for your eyebrows. If you have the very thin or the patchy eyebrows then you can fully fill the eyebrow and then comb the eyebrow hairs to set them perfectly at a place and give them the finished look. The eyebrow pencil is light in weight and compact in size so that you can carry it in your purse anywhere for your touch-ups or if you are traveling.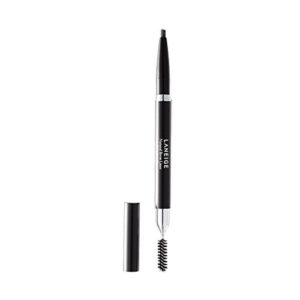 Aesthetica Brow Sculpting Duo Eyebrow
The Aesthetica eyebrow sculpting duo is the two in one eyebrow pencil. The pencil has two heads among which one head is the eyebrow pencil which has the triangular head that allows you to give your eyebrows the perfect finish and makes the application of the eyebrow pencil easier. The other end has the spiral screw comb which helps in setting the eyebrow hairs and the clear gel is there to protect the eyebrow pencil from fading away. This is even compact in size so that you can carry it anywhere with you and can use it anywhere whenever you feel like giving the touch up to the eyebrows. The thick triangular shaped eyebrow pencil is given so that you can get the defined look to your brows, first, you have to start fo by giving an outline to your eyebrows and then fill them up naturally, fill the patches with heavy strokes and the rest of the brows with gently and light strokes as to match the color of the entire brow. At the end finish the look with the clear eyebrow gel which makes the pigment stay longer throughout the day.
Suggested : To give awesome look to your eyes, you can always consider applying eyeshadows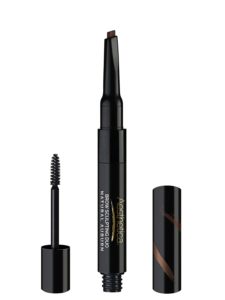 Missha Perfect Eyebrow Styler Dark Brown
Missha perfect eyebrow styler comes in the various shades and you can choose what color suits you the best by reading the article given above where we have mentioned which color tone goes with which hair color and what skin tone compliments the shade. The eyebrow pencil shown in the picture is in the shade dark brown. The eyebrow pencil comes in the size of 0.35g that possesses natural color which will give a natural but fuller eyebrow look. It also has the spiral comb also called the screw comb which is used to shape up your hairs and to apply the clear gel easily which will make the eyebrow pencils natural pigmentation last throughout the day on your face.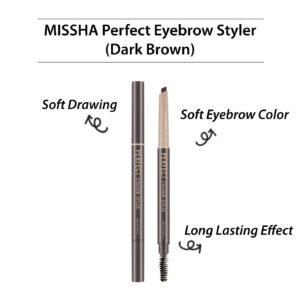 Buying Guide for the Best Korean Eyebrow Pencils
We have prepared a buying guide for you to help you out with selecting the best eyebrow pencil for you. By following some of these easy guidelines, you would be able to find your perfect match without doing much hustle.
1.
Go a Shade Lighter
We needed an experienced perspective around what hues are best for achieving innate fullness and contour because eyebrows are as varied as hair color and complexion. Jessica Payne, a beauty professional and executive head of Blushington, gave the internet some pointers including how to make sure we're doing it correctly. Payne is definite about one thing when it comes to hair color: lighter is always better. "Whatever you do, always go a shade lighter," she advises. "Even with brunettes, I'll use a blonde hue now and again." What is the significance of this? "Trying to replicate your brow color to your hair color perfectly risks seeming artificial, which is the absolute reverse of the desired effect," adds Payne.
2.
Easy Application
Try to opt for an eyebrow pencil that has a trusted formula used, such as wax for easy application. With all that in place, you won't be worried as much about forgetting to reapply the cream to your brows. To make things even easier, an eyebrow pencil with a sloping tip can guarantee that the appearance you're going for with your brows would not go astray. It's also worth mentioning that certain brow pencils, which resemble school pencils, exist with a sharpener so that the customer may use them again and again.
3.
Portable Weight and Shade
The size of the eye pencil is the often aspect that can have an impact on how you use it on a daily basis. An eyebrow pencil should weigh less than one ounce. As a result, customers may utilize the device rather than become exhausted from its weight. The eyebrow pencil's mobility is further ensured by its lightness. Because it's such a light item, you can take it with you when you travel so you can make touch-ups if your brows need it.
4.
Skin-friendly Ingredients
An aspect to consider for eyebrow pencils is that they are mild on the skin. To that aim, manufacturers must employ skin-friendly components or those that will not cause allergies when applied to the face. Although the brows are only one part of the face, scratching them can result in unsightly rashes or patches. Not only may this disrupt your regular routine, but it could also put you out of pocket due to treatment expenditures. Organic components or derived from plants are two common examples of substances that may nurture the skin and brows while irritating either.
5.
Long-lasting Formula
When it comes to components, be sure the eyebrow pencil can give you a long-lasting appearance. After all, you're spending on a solution that will keep your brows looking good for as long as possible. If you operate in the entertainment or hospitality industries, you will deal with a large number of individuals on a regular basis. You're unlikely to have enough time to touch up your eyebrows every hour or so. This emphasizes the importance of using brow pencils that can give you a long-lasting appearance.
Korean Eyebrow Pencils

Frequently Asked Questions
If this hasn't been enough of a guide for you, and you still have some questions left, we are going to answer some of the most frequently asked questions about this topic. This would, hopefully, answer any query that you may have regarding Korean eyebrow pencils.
1.
How do you darken eyebrows with a pencil?
The most important step is to choose the right shade of the eyebrow pencil, a shade that is the closest to your natural look. Once you have chosen the right shade, tweeze your eyebrows for any unwanted hair that might interrupt the darkening. Start by applying light strokes, to make it look like a natural hairline and not something like a clumpy box of makeup. Once you are done with the strokes, blend it all for a subtle look by using a soft eyebrow brush. If you don't have that available, you can also use a cotton bud with a tiny and sharp Q-tip. Finish the look by applying concealer around the brows to give it a more defined look.
That's all! Go and win the world, because you run it!
2.
Is an eyebrow pencil safe for my natural eyebrows?
Yes! All that you need to do is make sure that you are using the right brand, that isn't too cheap or low on hygiene, and you are good to go. That is one of the reasons why we have mentioned all the top Korean brand names that are in charge of manufacturing the products. If you pick one from our mentioned list, you would be more than just surprised by how good the quality of the product is, because if anything, we would never compromise on your skin health.
3.
What is the substitute for an eyebrow pencil?
Well, there are several other makeup products that you can use to darken your eyebrows such as eyeliner, dark eyeshadow, etc. It is all in the art of being creative with makeup products.
Buy on Walmart
ETUDE HOUSE Drawing Eye Brow 0.25g #1 Dark Brown | Long Lasting Eyebrow Pencil | Soft - Walmart Link
Tattoo Eyebrow Pen with Four Tips Long-lasting Smudge-Proof All Day Waterproof Brow Gel - Walmart Link
Lioele Auto Eyebrow #3 Gray Black - Walmart Link
Holik Holika Wonder Drawing 24hr Auto Eyebrow Pencil #2 Dark Brown - Walmart Link
PONY EFFECT Sharping Brow Definer - Ash Brown | Precision, Long-lasting, Retractable Brow - Walmart Link
Laneige Natural Brow Auto Pencil Liner, No. 2 Stone Grey - Walmart Link
CLIO Eye Brow (Brow Pencil, Brow Pencil_Gray Brown) - Walmart Link
Missha Perfect Eyebrow Styler Dark Brown - Walmart Link
ARITAUM Matte Formula Eye Brow Pencil, No. 1 Light Brown - Walmart Link
Buy on eBay
ETUDE HOUSE Drawing Eye Brow 0.25g #1 Dark Brown | Long Lasting Eyebrow Pencil | Soft - eBay Link
Tattoo Eyebrow Pen with Four Tips Long-lasting Smudge-Proof All Day Waterproof Brow Gel - eBay Link
Lioele Auto Eyebrow #3 Gray Black - eBay Link
Holik Holika Wonder Drawing 24hr Auto Eyebrow Pencil #2 Dark Brown - eBay Link
PONY EFFECT Sharping Brow Definer - Ash Brown | Precision, Long-lasting, Retractable Brow - eBay Link
Laneige Natural Brow Auto Pencil Liner, No. 2 Stone Grey - eBay Link
CLIO Eye Brow (Brow Pencil, Brow Pencil_Gray Brown) - eBay Link
Missha Perfect Eyebrow Styler Dark Brown - eBay Link
ARITAUM Matte Formula Eye Brow Pencil, No. 1 Light Brown - eBay Link