You must be thinking that we have a lot of products for our facial skin and other body parts to take care of then why do we need the cream specifically for hands? Many people take care of their body but they forget their hands that are exposed the most to the world and go through a lot. As we use our hands the most they show the signs of aging faster when not taken care of, and using a hand cream is the best way to take care of hands, nourish them and keep them healthy. What hand cream do is they repair your hands from deep within and restores the soft skin cells and the baby hands you deserve. The hand creams ensure you that your hands won't age faster, becomes softer and look younger. The normal moisturizers won't be able to give you the level of softness and repair your skin because the regular moisturizers are made for the body which has the thin layer of skin which easily penetrates the skin and moisturize it but for your hands, you need a hand cream which is rich and full moisture-binding ingredients because the skin of your palms is thicker and the regular moisturizers won't be able to help it. The hands show the signs of aging very fast as they are exposed and they do various tasks throughout the day, let it be washing your hands, washing the dishes, bathing with soap, using shampoo and cleaning with the detergents. The hands are exposed to all sorts of chemicals which take away the moisture from them leaving it dry. Here, we have also given a detailed explanation about how to take care of your hands, the complete hand care routine and the list of top Korean hand cream which are overall the best and rank them accordingly.
Editor's Recommendation: Top Korean Hand Creams
Hand care routine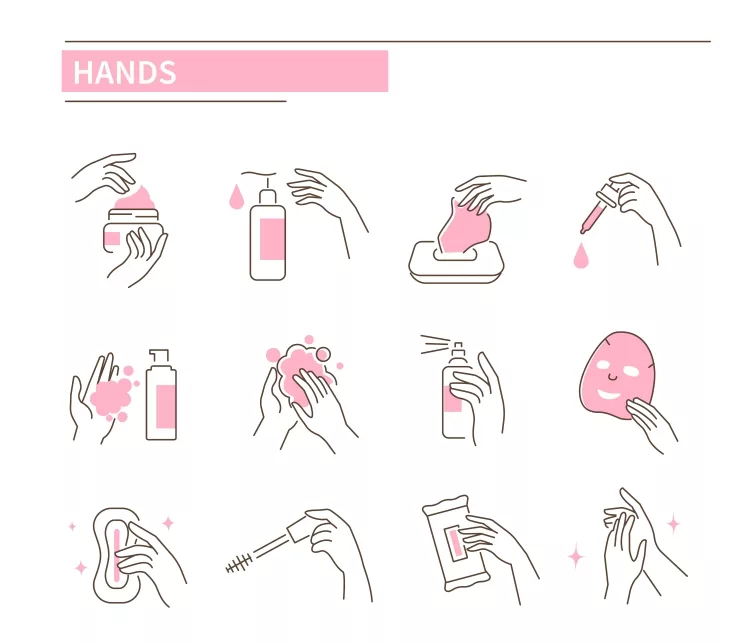 To keep your hands from aging and cracking so everyone must do a hand care routine. As our hands are the once that are exposed to the different types of water, chemicals, heat, etc. So, they need some extra care, and the routine you must follow is as follows:-
Wash your hands in the lukewarm water, with the moisturizing hand wash that contains olive oil, shea butter or, the other moisturizing ingredients as the antibacterial hand wash tends to dry out the skin.
Clean your nails with the help of a brush. Hold the brush perpendicular to your nails, and rub them back and forth gently to clean out all the dirt settled into your nails and wash them off.
Cut your nails according to your convenient size and file them to give them a proper shape. Moist the cuticles and push them backward, but do not cut your cuticles as it can cause infections.
Apply some vitamin E or the cuticle cream to keep the nails nourished and healthy.
Apply some hand cream on your hands on the palm, the backside of your hand, and even between the fingers every day. You must also apply the hand mask over the hand cream once a week to give your hands the complete moisture lock.
Moisturize your hands with the hand cream regularly in the morning after you wash your hands and every night before going to bed.
Top 9 Best Korean Hand Creams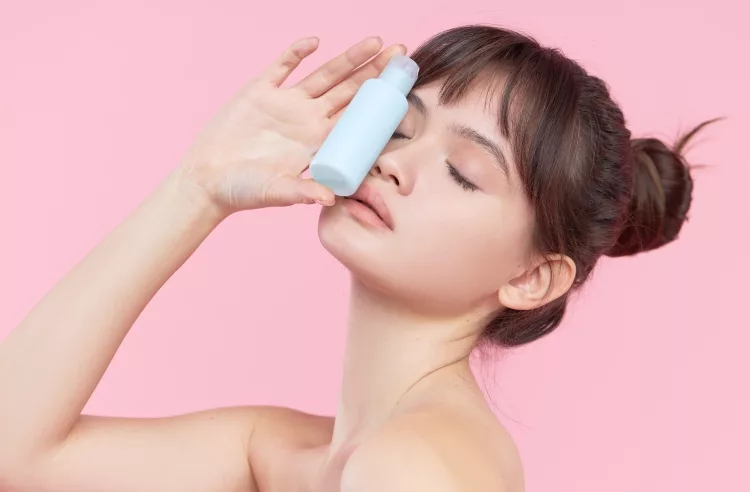 FASCY Moisture Hand Bomb Cream - Link
The Fascy Moisture Bomb Hand Cream is packaged in two transportation-friendly containers. It contains aloe vera essence, which refreshes and soothes the epidermis, as well as cocoa butter and panthenol, which provide strong moisture to the skin to keep your hands exquisitely smooth. With grapefruit ingredients, it also lowers the fine lines and wrinkles and soothes weary skin. Furthermore, the lovely fruity aroma will keep you feeling fresh the whole day!
Pros:
When contrasted to a thick moisturizer, these moisturizers might leave your skin fresh and exciting and much less burdened down. According to Lindsey Bordone, Doctor, a panel dermatologist at Columbia University Hospital Medical Center in New York, this makes it an appropriate alternative for folks who don't enjoy the sensation of a heavier cream on their complexion.
These moisturizers absorb quickly into the skin, making them an excellent basis. "Many people discover it simpler to put on makeup after a gel moisturizer than of an oil-based moisturizer," says Kenneth Rothaus, MD, of Rothaus Cosmetic Procedures in New York City.
Cons:
There isn't any such disadvantage of this product; however, the results may vary from one individual to another.

Mamonde Flower Scented Hand Cream - Link
If you enjoy flowery scents, the Mamonde Flower Scented Lotion is an ideal buy. This has the scent of blossoms, something you will like. It moisturizes dry, scratchy, or flaky skin, leaving your hands soft and healthy. This hand lotion has a creamy consistency and the calm and pleasant aroma of Daffodil. The cream delivers efficient rapid refreshment with a cooling feeling and is packaged in a tube for convenient usage.
Pros:
The best part about this hand cream is that it is free of any artificial substance that can cause harm to your skin in the long term. There is no paraben, no sulfate, and absolutely no phthalate.
It is a vegan product in the industry of Korean beauty products. It is cruelty-free and super healthy for your skin in every possible way.
Cons:
Similar to that of the previous one, there is no con as such to be mentioned here; however, the results, needlessly to say, vary from one person to another.

Frudia My Orchard Hand Cream - Link
Frudia's My Orchard Hand Cream has a delicately smooth and creamy texture that gives substantial nutrition and moisture. The gifting package comprises six different varieties of hand lotion with relatively high components derived from berries. They produce a fruit scent that lasts for a long time. The containers are labeled with black and white covers to indicate whether they are rich or fresh.
Pros:
Fruity aromas are often characterized by the odor of ripened, freshly edible fruity notes that include the fragrance of fruits other than citrusy, such as peach, black raspberry, mango, guava, and others.
Because these moisturizers do not include as many heavier oils as topical formulations, they do not produce an awful greasy film. "It applies quite smoothly," adds Nazanin Saedi, Doctor, a board-certified specialist at Jefferson University in Philadelphia.
Cons:
The packaging may sometimes not be too satisfying.

Innisfree Olive Hand Cream
Innisfree is the most popular Korean company in the market for the overall skincare range. This Innisfree olive hand cream comes in a 50 ml container pack. This hand cream is infused with nutrients and which heals your hands while keeping them moisturized. As you know our hands are the most crucial part of our body which is exposed to the heat, rough surface, pressure, chemicals, etc. Our hands do a lot in a single day, from using the soap to doing our day to day tasks they are exposed so much and are cared about too less. We do many things for our face, hands, legs, back but do nothing about our hands that do so much for us. This is a hydrating and nutrient-rich hand cream that keeps your skin moisturized, soft and hydrated throughout the day. As its name says it contains extra virgin premium olive oil which is rich in antioxidants and filled with the vitamins that keep your skin nourished and soft while repairing it from the inside. It gives you 24 hours deep moisturization and hydration.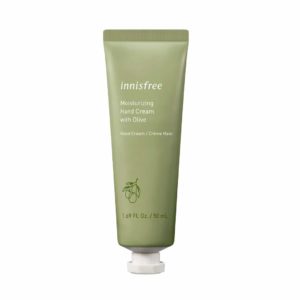 TONYMOLY Magic Food Hand Butter
The TONYMOLY Magic Food Mango hand butter is a mango-flavored hand cream that nourishes your hands and keeps it moisturized all day long. It is formulated with ingredients like shea butter, mango seed oil. It is a lightweight formula that does not stick to your hand and allows you to work without any obstacles. As you know that our hands do all the tough jobs throughout the day and yet no one pays attention to them to keep them healthy and care about them as we do for the other parts of the body. Our hands get exposed to many things during the whole day like chemicals, rough surfaces, in and out of the water and other tough jobs. This hand cream moisturizes your hand and all you have to do is to clean your hands and apply the adequate amount of cream on your hand and gently massage it properly. It comes in the small and cute mango shaped container and smells like mango pudding. It has the main ingredients like shea butter which is rich in vitamins and fatty acids that nourish your hands and protects them from the other damaging elements. The mango seed oil is the second key ingredient in this formula because it is a rich source of fatty acids and contains vitamins and minerals to nourish the skin. And lastly, sunflower oil is rich in vitamin E which moisturizes the skin and also rejuvenates the skin to stop the early aging of your skin.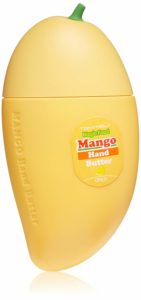 Etude House Hand Cream
Etude house hand cream is one of the best Korean hand creams which is made animal friendly, which means no animals were harmed during the making and testing of this product. It has been formulated with the ingredients all-natural ingredients like the mixture of herbs, shea butter, and olive oils which heals your hands moisturize them and slows them from aging. The specialty of Korean hand cream is that they sink into the skin very easily and doesn't leave your hands greasy and oily after applying the cream. It has some perfume present in it which lingers the great smell along with the soft and moisturized hands. It comes in a cute panda container which you can use it even after you finish your hand cream you can fill it with something else and use the container for many years further. The container is compact in size which can fit into your purse easily so that you can carry it around with you to use it anywhere and everywhere.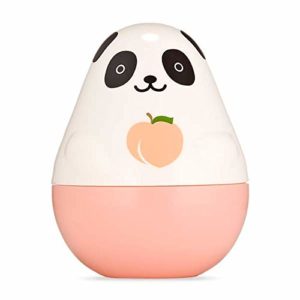 FaceShop Pet Hand Cream
The face shop brings you another product in the body and skincare routine range that is hand cream. It comes in a small pet shaped container of size 30 ml which is really adorable and cute. You can reuse this container when the cream is finished you can clean the bottle and refill it using any other product. This container is so cute and compact that it can fit into your purse easily and you can take away the hand cream whenever and wherever you want to use it. It comes in the various fruity flavors, as it has some perfume into them they smell amazing like candy and keeps your hands soft and moisturized all day. It is lightweight and does not stick on the surface of your skin, gives you non-sticky finish and a smooth texture. It gets absorbed quickly. It contains the ingredients like shea butter and mango seeds that give the natural-looking texture, soft, moisturized hands which is getting their skin cells repaired whenever you apply it on. Faceshop hand cream works best in winter skin care.This Korean hand cream can be used by anyone to let it be a man or a woman and it suits any skin type.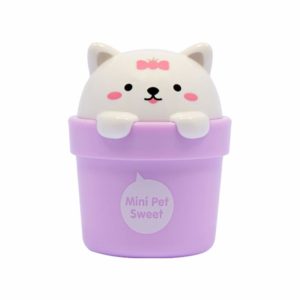 INNISFREE Jeju Life Perfumed Hand Cream
INNISFREE Jeju life hand cream is a perfumed hand cream which gives you moist hands. This cream is full of nourishment and rich fragrance that lingers throughout the day. This Korean hand cream has the softener technology which lasts longer on your skin and the strengthening technology which is applied in the older industrial products like softeners, deo, and semi-wax trap. The moisture preparation in this Innisfree Jeju hand cream covers the whole hand and absorbs quickly into your skin without leaving any residue or greasy hands. It is very easy to wash away, whenever you need to clean your hand to do something or you want to clean your hand just to reapply the hand cream then this is the best hand cream you can have. It comes in a small size container that can fit easily into your purse so that you can apply it any time anywhere. This hand cream has all the natural ingredients which do not cause any irritation or side effects to your hand.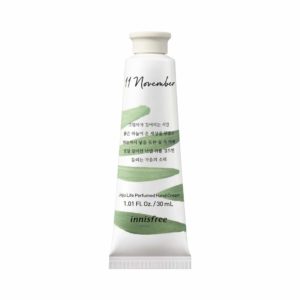 MISSHA Lovesecret Hand Cream
MISSHA's love secret hand cream range is one of the most reliable products in the market when it comes to skincare. This hand cream is available into various fruity and natural flavors that keep you fresh with its fragrance all day. The MISSHA hand cream has a special formula that absorbs quickly into the hands, without making them greasy and leaving your hands more moisturized and softer than before. This hand creams formula is very light and silky, that gives your hands the perfect care and repairs them from deep within. The Missha hand cream also improves the texture of your skin targeting the fine lines and the cracks on the surface of the skin. Another reason that this hand cream has made it to the list is that it has a subtle scent that lingers all throughout the day on your skin and this is not that strong that it will irritate your nose. It comes in a cute container that is small and compact in size so that you can carry it anywhere and can reapply it whenever you want to.
Also Read : Top rated hand masks in Korea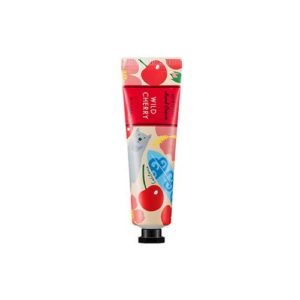 Korean Hand Cream Buying Guide: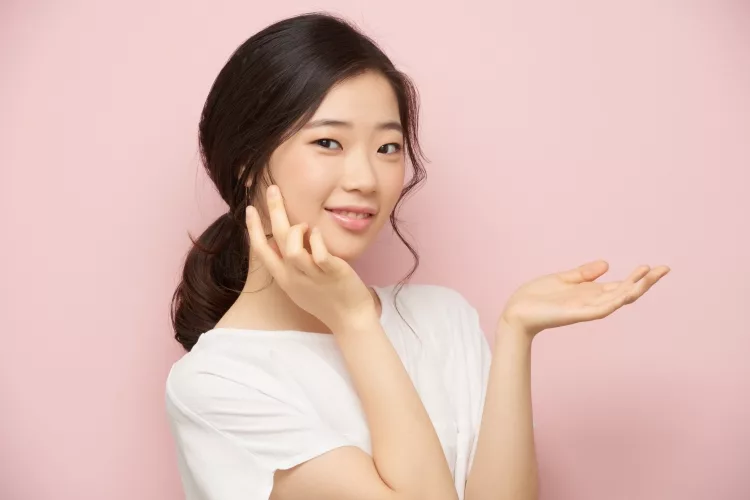 When you write things down on your to-do checklist, it appears simple sufficient. However, a stroll around the skincare products aisles quickly teaches you that the options may be bewildering. Face creams, facial and body moisturizers, and creams or ointments for rough, hypersensitive, pale, or dark skin are all available. When anti-aging chemicals and sunscreens are added, the confusion gets even more.
If you are looking forward to buying a good hand cream moisturizer, we suggest you go through some of these amazing buying tips that we have piled up for you. This way, you would buy the best product possible.
1. SPF
Regardless of your type of skin, almost every doctor suggests using a moisturizer with at least SPF 25 to 30 sunscreen. If you're going to use it on your face, Cambio recommends opting for one that's mostly used and fragrance-free.
2. Antioxidants
Skincare products, especially moisturizers, containing antioxidants, such as green tea, lavender, cranberry, or licorice root essence, may aid in keeping any type of skin looking young and strong. Antioxidants aid in the neutralization of reactive oxygen species, which are chemicals that tear down keratinocytes.
3. Oily and Sweaty Skin
"I favor alpha-hydroxy acids, which are also anti-aging," adds Carolyn Jacob, MD, a dermatologist in Chicago. If you're prone to oil production and perspiration, seek a non-comedogenic moisturizer that won't clog your pores.
4. Dry Skin
Look for a thicker moisturizer with components like hyaluronic acid and glycerin to help keep skin moisturized. Water is drawn to your epidermis by glycerin, propylene glycol, enzymes, and ammonia. Lanolin, mineral oil, and petroleum jelly all help to keep moisture in.
5. Sensitive Skin
Use a less aroma-based, hypoallergenic moisturizer. "In general speaking, pick that has less than ten components," advises Sonia Badreshia-Bansal, MD, a specialist in Cali. With fewer chemicals, there are fewer possible reactions with sensitive skin.
6. Itchy Skin
If a hypoallergenic moisturizing cream does not cure irritation, try a 1% glucocorticoid steroid skin cream for one week at most. And if that does not relieve the irritation, consult your doctor. You might be suffering from a more significant skin condition.
7. Avoid too many Acids
If you do have poor or fragile skin, avoid alpha-hydroxy acids, propylene glycol, retinoids, and salicylic acid. These chemicals may enter the epidermis too thoroughly and cause irritation to sensitive skin. Avoid alcohol-containing items too though.
8. Aloe Vera
Have you ever wished that your moisturizer should stop making your hands so oily? You're not through yourself. Aloe vera has several skin-healing qualities. We're sure you've used it to treat a nasty sunburn, but it also helps your hand cream soak fast into your skin. You may wave farewell to oily moisturizer for good.
9. Essential Fatty Oils
Fatty triglycerides are proven to help your skin recover from the effects of excessive dryness. Avocado oil, grapeseed oil, and sweet almond oil are three all-star oils. Because of its capacity to retain hydration, this is an essential skincare component while looking for the finest hand cream for skin conditions.
10. Humectants
With the skincare ingredient jargon, we're getting a bit more technical. Nonetheless, it's simple. Look for hydrating substances such as glycerol and glycol. These components retain moisture and are very tolerant to damp and wet surroundings.
Korean Hand Cream Frequently Asked Questions
We have also decided to answer some frequently asked questions for you to inform you more about the product.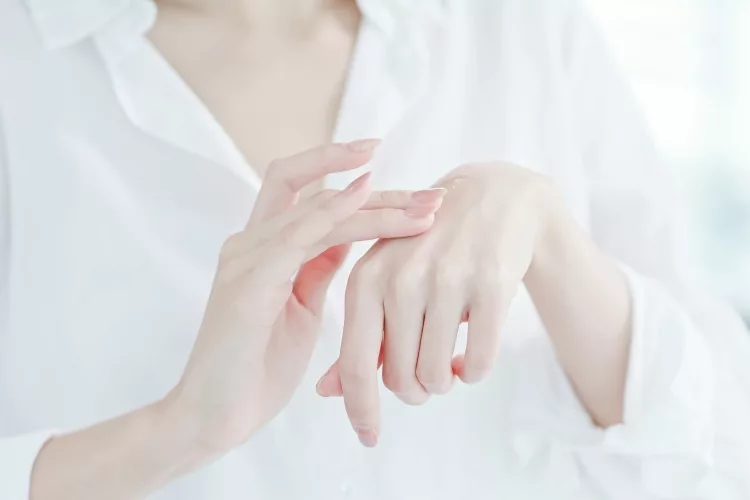 1. How many times should you apply hand creams?
There is no hard and fast rule on how often you should apply hand cream. Some recommend using it every time you wash your hands, while others recommend using it occasionally throughout the day.
2. Why is it important to use a hand cream?
Excessive handwashing can cause cuticles to become dry and flaky, rendering them prone to infectious diseases. Applying a decent quality hand lotion will nourish and care for the cuticles and nails, all of them seem healthy, vibrant, and glossy.
3. Do hand creams work?
Even though hand moisturizers might soothe the skin and give symptomatic relief, it's crucial to note that they aren't intended to cure skin disorders like eczema. After the skin has been restored, you can apply hand cream to keep your hands nice and healthy.
4. Can hand creams be used on the face?
You may apply hand cream to your face because it has the same elements as face cream, correct? Excessively moisturizing your face can cause your skin to become more greasy than usual, which can lead to irritation and breakouts. We recommend keeping your hand lotion on your hands, which are likely in need of some extra tender loving care.
5. Why does hand cream have alcohol?
What is its purpose? Acetyl alcohol aids in the separation of creams into oil and fluid. An emulsifier is a substance that helps to keep liquid and oil combined. It may also thicken a product or boost its capacity to froth.
6. Does hand cream make a difference?
Hand cream will help you improve your skin's suppleness and moisture levels while combating discoloration, dryness, and premature wrinkles. A high-quality, ultra-hydrating product is essential for providing long-lasting hydration, restoring the natural skin moist environment, and softening and soothing even the roughest, driest skin.
7. What causes dry hands?
The majority of the time, dry hands are affected by external factors. Dry hands can be caused by environmental factors such as the weather. Handwashing often, chemical contaminants, and certain health conditions can all dry up the skin on your hands. Having said that, there are various strategies to keep your parched skin moisturized, regardless of the cause.
Buy on Walmart
NOONI Gentle Moisturizing Hand Cream | Moisturizing Hand Cream for Dry Skin with Shea - Walmart Link
Nature Republic California Aloe Vera Hand Cream 50 ml / 1.69 fl. oz. - Walmart Link
ETUDE HOUSE Missing U Hand Cream (Panda Story) | Hypoallergenic & Organic Hand Cream with - Walmart Link
FASCY Grapefruit Scented Moisturizing Hand Cream Peach, Anti-Wrinkle Korean Hand Cream - - Walmart Link
DUFT&DOFT Best Hand Cream Trio Gift Set (Pink Breeze 25ml.+ Sophy Soapy 25ml + Stockholm - Walmart Link
Huxley Hand Cream Velvet Touch 1.01 Fl Oz | Korean Hand Cream | With Shea Butter, Coconut - Walmart Link
Mamonde Flower Scented Hand Cream Lotion Moisturizer, Narcissus - Walmart Link
Buy on eBay
NOONI Gentle Moisturizing Hand Cream | Moisturizing Hand Cream for Dry Skin with Shea - eBay Link
Nature Republic California Aloe Vera Hand Cream 50 ml / 1.69 fl. oz. - eBay Link
ETUDE HOUSE Missing U Hand Cream (Panda Story) | Hypoallergenic & Organic Hand Cream with - eBay Link
FASCY Grapefruit Scented Moisturizing Hand Cream Peach, Anti-Wrinkle Korean Hand Cream - - eBay Link
DUFT&DOFT Best Hand Cream Trio Gift Set (Pink Breeze 25ml.+ Sophy Soapy 25ml + Stockholm - eBay Link
Huxley Hand Cream Velvet Touch 1.01 Fl Oz | Korean Hand Cream | With Shea Butter, Coconut - eBay Link
Mamonde Flower Scented Hand Cream Lotion Moisturizer, Narcissus - eBay Link