In the sea of Korean beauty products, there are many lip products. But when you looking for the product which will nourish your lips as well as give a feeling of lipstick, you must go for Korean lip tints. These tints are very much tinted and long-lasting. Very basic and natural ingredients are used to make these lip tints. You can read a review and user guide on our site bestkoreanguide.com to buy effective product among all of the reviews.
These lip tints are easily available on amazon.com. You can go through the customer reviews and see what the majority of people think about the product before buying it.
Best practice before buying the product is that you must ensure that the product you choose contains only natural and organic ingredients. By choosing only the best ingredients, you will ensure that the product will not cause any adverse reaction to you.
Always keep in mind that the color of the lip tint will also define how much money you will spend on the product. Remember that the shades used can vary depending on skin tone. Therefore, you need to be aware of this when selecting the best Korean lip tints.
Top Korean Lip Tints by Editors' Picks
Top 10 Best Korean Lip Tints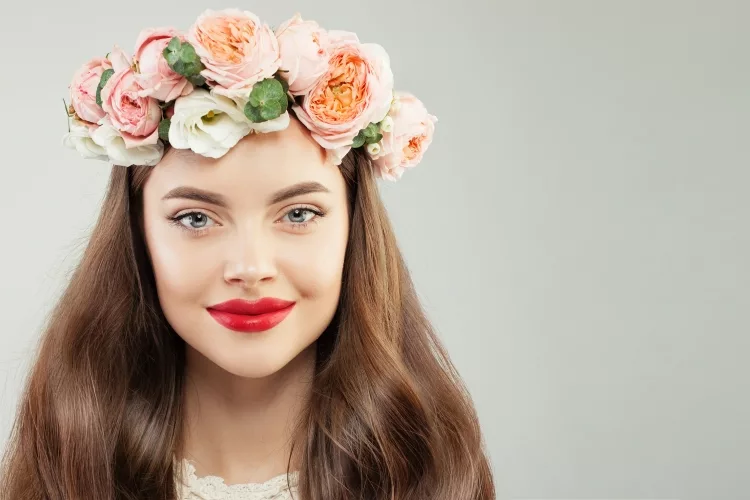 PONY EFFECT Favorite Fluid Lip Color Tint - Link
Best Korean Lip Tint all time.
Pony Effect lip tint is a very moisturizing and glossy Korean lip tint you can ever have in your makeup pouch. This is one of the must-haves in your bag while traveling. This tint will give you a feel of glossy lipstick. It is very lightweight and silky in nature. It seals your lips with lots of moisture and nourishment. You can mix it with other lip colors. It blends other colors and gives your lip a gradient effect. This is one of my favorite Korean lip tints because it does not settle in your lip cracks. The best thing about it is that It lasts for a whole day long.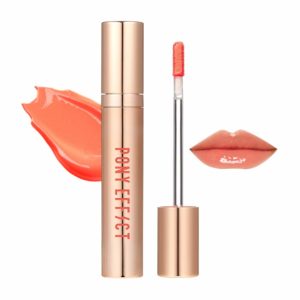 Colors Available
Adore you
Simon-pure
Go pitapat
Lavish praise
Desire
Due respect
Irresistible
Romantic breath
Love potion
Sheer delight
Secret admirer
Important Characteristics
Long-lasting
Gives a glossy finish to your lips
Made up of natural ingredients
Very much hydrating
Gives intense moisture
Super blendable helps in giving gradient effect to lips
One of the best lip tint in Korea

3CE Tattoo Lip Tint - Link
Best Lip tint in Korea made up of natural elements in Korea
3CE tattoo lip tint sticks to your lip very instantly. It gives you the best color pigmentation. It is made up of eleven plant-based oils that include Argan Kernel Oil, Olive oil, Camellia oil, Jojoba seed oil, and shea butter, and so many more. This essence oil complex protects and moisturizes lips while providing them a real shine. Curved tip applicator comes with it which rolls over lips in any direction giving a perfect look to your lips.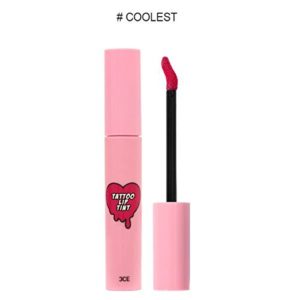 Colors Available
Candy gelly
Coma
Coolest
Luztic
Yay or nay
Important Characteristics
Rich in pigmentation
High staying power
Creamy structure gives you a clean, non-greasy feel
Made with 100% natural ingredients like Argan Kernel Oil, Olive oil, Camellia oil, Jojoba seed oil, and shea butter
Comes with a curved-tip applicator that glides effortlessly in any direction

rom&nd Zero Velvet Tint - Link
Rom &nd Zero Korean Lip tint comes in numerous colors. This particular lip tint is a very nourishing and moisturizing one. It does not give you a greasy feeling. You can use it on daily basis as it comes in so many colors.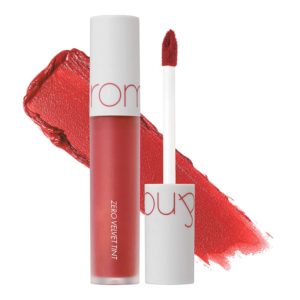 Colors Available
Melting
Joyful
Flare
Persired
Burnt heart
Witty
Deep soul
Fizz
Icy
Polar
Fever
Important Characteristics
Non-Sticky
Very nourishing and glossy
Lightweight structure
Many beauticians use it and highly recommend it
Available in many shades which can be used on a daily basis

[BOM] MATT HOLIC TINT - Link
Best Korean Matt Lip Tint used by many office going ladies
If you looking for some office look lip tint, [BOM] matt Holic tint is here. This lip tint is the best Korean matt lip tint you can ever find. This gives a perfect professional look to you. Lasts for nine to five. It does not dry off due to the oil complex present in it.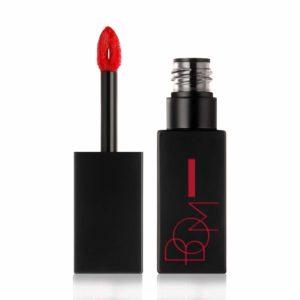 Colors Available
Vintage brick
Sugar Coral
Miss Cherry
Vampire red
Lovely Rose
Important Characteristics
Has non-sticky matt formula
High in pigmentation
Lasts a whole day
Contains natural oils to provide moisture

Peripera Sugar Glow Tint - Link
Best Korean Lip Tint for party animals 😛
Here is the best solution for all party lovers. Peripera Sugar Glow tint is the best glossy lip tint in Korea. It is also available in all popup, Party wear lip colors. It gives you attractive shiny lips.

Colors Available
Strawberry Sweet
Grapefruit Spirit
Pink Melon
Sweet and Sour
Cherry Pie Filling
Important Characteristics
Gives you attractive glossy glamorous lips
Tastes like fruit candies
All-natural sweet ingredients are used
Do not Smudge off
Gives moist finish
Gives Melting and glimmering feel

[INNISFREE] Vivid Cotton Tint - Link
Best Mid range affordable Korean lip tints
When you are looking for affordable and daily wear lip tints, here is the best choice- Innisfree vivid cotton tint. It is smooth and light as cotton as the name says itself. It gives your lips velvety effect and moisture like silk. It comes in twelve shades. These are awesome to use daily. It keeps your lips clean and ultra-smooth for a day long.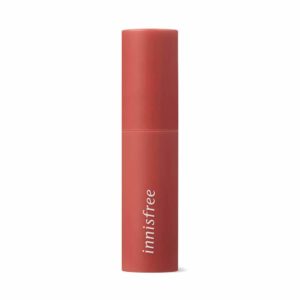 Colors Available
Cream Apricot Coral
Toasted Almond Coral
Brick Peach Coral
Rosy Wood Coral
Chilly Pepper Coral
Important Characteristics
Gives silky smooth lips
Can last 10-12 hrs
Highly pigmented
smudge-proof
Easy to use

ETUDE HOUSE Dear Darling Water Gel Tint - Link
Etude house dear darling water gel lip tint is made up of fruit extracts like pomegranate, strawberry which made them natural red color shades. Shades of this lip tint vary from cool tone red to warm tone red. It is up to you to choose the best tint which suits you and brightens you up. It is very high in minerals and vitamins making your lip soft, nourished, moist and fresh.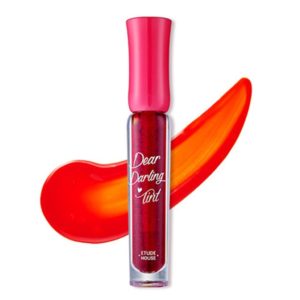 Colors Available
Vampire Red
Fig Red
Orange Red
Kumquat Red
Grapefruit Red
Cherry Red
Plum Red
Sweet Potato Red
Chilly Red
Important Characteristics
It is the best water gel Korean lip tint.
Comes in all-natural, fruity and juicy colors
Improved tinting strength
All shades of red from cool tone to warm tone reds are available
Pomegranate extract, vitamin, and the soapberry extracts leave lips looking delicious, humid, and fresh.

Sexy Wine Red Dark Berry Moisturizer Long Lasting Matte Lipstick Korean Tint - Link
Sexy wine is the best lipstick come lip tint in Korea. It gives you matte finish along with immense moisturization. If you want to have natural look you can go for a single coating of this amazing lip tint. For a heavy sexy and glamourous look just apply it twice. This will give you amazing natural matte finish. Again it is a long-lasting and waterproof lip tint you can ever have in your bag.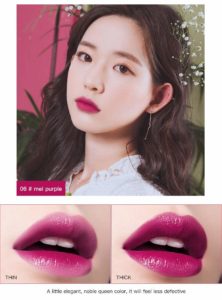 Colors Available
Classic Red
Red Bean Paste
Milk Tea Color
Cherry Color
Mei Purple
Important Characteristics
Used by many professionals and makeup artists
Long-lasting
Nourishing
Elegant colors for day to day use

ETUDE HOUSE Dear Darling Gel Tint - Link
This is another one water gel lip tint but at affordable price. This etude house dear darling range of lip tints is made up of fruit juices. It gives you a long-lasting tint effect. you can use it for almost 7-8 hours without smudge. As it is made up of real fruit extracts it is available in cool to warm shades of red. You just need to find which shade will make you look more bright and glow.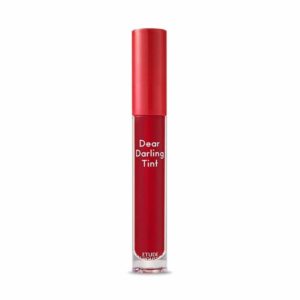 Colors Available
Brick Red
Orange
Red Orange
Deep red
Pink
dark pink
fuchsia pink
purplish red
Important Characteristics
Fruity juices are used to make these amazing tints
Long-lasting
highly tinted

Peripera Ink the Velvet Lip Tint - Link
Most affordable Korean lip tint
This lip tint is one of the best affordable lip tints in Korea. Peripera lip tint is a highly long-lasting, tinted, and affordable Korean lip tint. It is almost weightless and gives you a varnish-like finish. It is gluten and paraben-free. It is not tested on animals. It gives creamy velvety structure to your lips.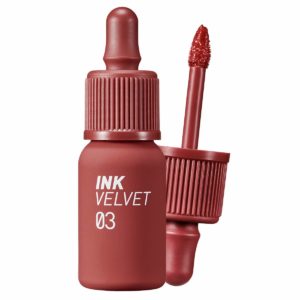 Colors Available
Pure Peach
Red Only
Charming Coral
Good Brick
Sellout Red
Celeb Deep Rose
Vitality Coral
Coral Fical
Purdy Red
Girlish Red
Sparkling Pink
Sunny Orange
Spring Orange
Inkrush Orange
Wow Pink
Important Characteristics
Best Korean affordable lip tint
Choice of beauticians and makeup artists
Wide variety of colors
Easily blendable
Long-wearing
Natural-looking on the lips
Very affordable
soft and flake-free lips
made up of natural ingredients like marine collagen, organic jojoba oil, olive oil, and arnica extract
Summary for Korean Lip Tints Buyers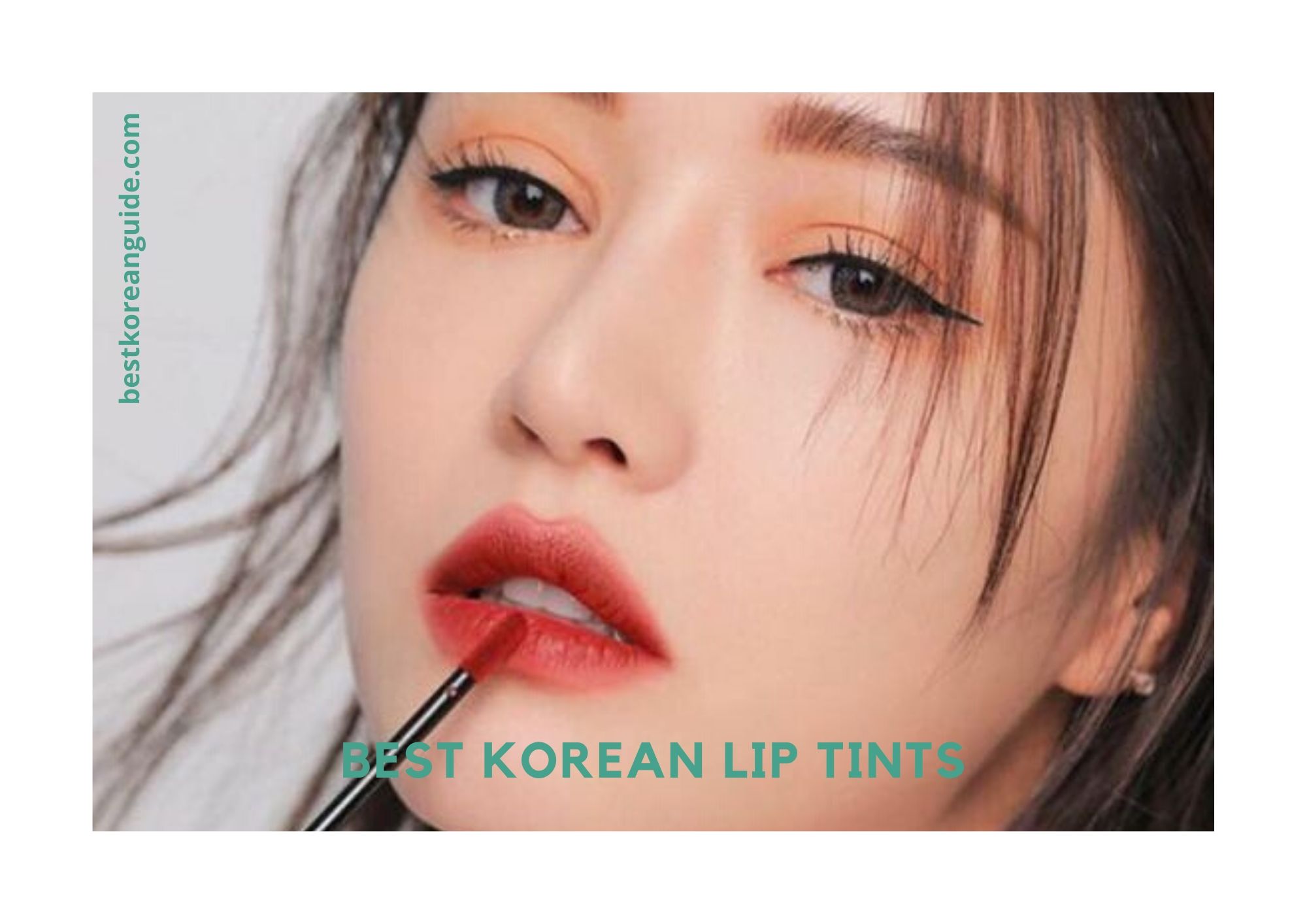 All reviewed products are best lip tints in Korea. I personally like the first product, i.e. PONY EFFECT Favorite Fluid Lip Color Tint. Though it is a little bit costly, it gives you immense moisture, feel of lipstick, and very long-lasting. Keeps your lips super smooth. This is the best product in all perspective except the cost. So if budget is not an issue you can buy this product blindly.
If you are looking for different color shades for daily use, you must try rom&nd Zero Velvet Tint which comes in various colors. And this is a mid-range product so you can easily purchase them for daily use.
Now the last, if you are tight on a budget, but want a good moisturizing lip tint, you must buy Peripera Ink the Velvet Lip Tint. This is the best affordable lipstick available in korean beauty market.
Buy on Walmart
I'M MEME I'M Mystery Flash Tint | Highly Pigmented Lip Tint | 002 Mystery Apple Punch | - Walmart Link
Peripera Ink the Velvet Liquid Lip | High Pigment Color, Longwear, Weightless, Not Animal - Walmart Link
Etude House Colorful Vivid Tint (PK002 Maraschino Cherry) | Moisturizing Tint with a - Walmart Link
3CE Velvet Lip Tint (4g/ea) 10 colors / Newly Launched / Mlbb / Mlbb Lips / Stylenanda - Walmart Link
[ BOM ] MATT HOLIC TINT Long Lasting Lip Tint 8.5g (H RD 102 Vampire Red) Korean K-Beauty - Walmart Link
ETUDE HOUSE Dear Darling Water Gel Tint Ice Cream (PK004 Red Bean Red) | Vivid High-Color - Walmart Link
TONYMOLY Delight Tony Tint Set, 3 Count - Walmart Link
It'S SKIN Colorable Draw Tint 3.3g 10 Colors - Cute Crayon Velvety Lip Tint Lipstick with - Walmart Link
BOEAN Velvet Fit Lip Tint (Kiss of marsala) Light Velvet Texture Fixed Persistence Lips - Walmart Link
BBIA Last Velvet Lip Tint Hottest Series, Coral Red (02 Extra Bounce) 0.18 Ounce - Walmart Link
rom&nd Glasting Water Tint 4g Korean Natural Lip Tint Gloss Longlasting K-Beauty (03 - Walmart Link
CLIO Mad Matte Lip Tint, 006 Eternal Coral - Walmart Link
6 Color Lip stains set Wine Lipstick Matte Long Lasting Waterproof Lip Tint Set Lip Gloss - Walmart Link
COLORGRAM TOK Glow Pop Tint 4g - IZONE Girlish Makeup K-Pop Beauty, Bead Glossy Long - Walmart Link
PONY EFFECT Favorite Fluid Lip Tint | Glossy Liquid Lip Tint | #Good Wishes | K-Beauty - Walmart Link
I'M MEME Bare Lips | Tinted Lip Balm for Glowing Lips | 004 Grabby| K-Beauty | Vegan - Walmart Link
ETUDE HOUSE Dear Darling Water Tint Cherry Ade | Bright Vivid Color Lip Tint with - Walmart Link
BBIA Last Velvet Lip Tint Hottest Series, Pure Pink (01 Extra Pure) 0.18 Ounce - Walmart Link
Wish Stone Tint (Velvet)-RD01 (LINE FRIENDS Edition) - Walmart Link
The Elixir Beauty Fascy All-in-One Korean Beauty Tina Tint Lip Essence Balm, Lipstick + - Walmart Link
PONY EFFECT Favorite Fluid Lip Color Tint - Walmart Link
rom&nd Zero Velvet Tint - Walmart Link
Peripera Ink the Velvet Lip Tint - Walmart Link
Buy on eBay
I'M MEME I'M Mystery Flash Tint | Highly Pigmented Lip Tint | 002 Mystery Apple Punch | - eBay Link
Peripera Ink the Velvet Liquid Lip | High Pigment Color, Longwear, Weightless, Not Animal - eBay Link
Etude House Colorful Vivid Tint (PK002 Maraschino Cherry) | Moisturizing Tint with a - eBay Link
3CE Velvet Lip Tint (4g/ea) 10 colors / Newly Launched / Mlbb / Mlbb Lips / Stylenanda - eBay Link
[ BOM ] MATT HOLIC TINT Long Lasting Lip Tint 8.5g (H RD 102 Vampire Red) Korean K-Beauty - eBay Link
ETUDE HOUSE Dear Darling Water Gel Tint Ice Cream (PK004 Red Bean Red) | Vivid High-Color - eBay Link
TONYMOLY Delight Tony Tint Set, 3 Count - eBay Link
It'S SKIN Colorable Draw Tint 3.3g 10 Colors - Cute Crayon Velvety Lip Tint Lipstick with - eBay Link
BOEAN Velvet Fit Lip Tint (Kiss of marsala) Light Velvet Texture Fixed Persistence Lips - eBay Link
BBIA Last Velvet Lip Tint Hottest Series, Coral Red (02 Extra Bounce) 0.18 Ounce - eBay Link
rom&nd Glasting Water Tint 4g Korean Natural Lip Tint Gloss Longlasting K-Beauty (03 - eBay Link
CLIO Mad Matte Lip Tint, 006 Eternal Coral - eBay Link
6 Color Lip stains set Wine Lipstick Matte Long Lasting Waterproof Lip Tint Set Lip Gloss - eBay Link
COLORGRAM TOK Glow Pop Tint 4g - IZONE Girlish Makeup K-Pop Beauty, Bead Glossy Long - eBay Link
PONY EFFECT Favorite Fluid Lip Tint | Glossy Liquid Lip Tint | #Good Wishes | K-Beauty - eBay Link
I'M MEME Bare Lips | Tinted Lip Balm for Glowing Lips | 004 Grabby| K-Beauty | Vegan - eBay Link
ETUDE HOUSE Dear Darling Water Tint Cherry Ade | Bright Vivid Color Lip Tint with - eBay Link
BBIA Last Velvet Lip Tint Hottest Series, Pure Pink (01 Extra Pure) 0.18 Ounce - eBay Link
Wish Stone Tint (Velvet)-RD01 (LINE FRIENDS Edition) - eBay Link
The Elixir Beauty Fascy All-in-One Korean Beauty Tina Tint Lip Essence Balm, Lipstick + - eBay Link
PONY EFFECT Favorite Fluid Lip Color Tint - eBay Link
rom&nd Zero Velvet Tint - eBay Link
Peripera Ink the Velvet Lip Tint - eBay Link