In cosmetics, toner is a lotion or wash designed to cleanse your skin and shrink the appearance of pores on the face. Women want toners which are made up of natural ingredients and which smoothens their skin. What else would be better than Korean toners to take care of your skin? As we all know that Korean beauty products are very famous for their natural ingredients used in skincare products. There are some very popular Korean toners that can be applied to any kind of skin texture. Then again these products are specially made up to make your skin glowing, healthy and acne-free.
Here some toners are listed which are best to use for different types of skin along with their ingredients, use of those ingredients and benefit of using these super amazing Korean toners.
Top 10 Best Korean Toner
---
Marine Mineral Plump & Glow Essence
Why use this product?
Every woman demands that cosmetics which they are using is of excellent quality and use only natural and organic ingredient. That's what the Marine Mineral Plump & Glow Korean Toner is!
It's an extract of Tamarind, Japanese Green Tea, Aloe Vera, Cucumber and some Marine Minerals which helps to reduce tiredness on your face and makes you look fresh. Ingredient in it provides nutrition to your skin. Because of which your skin glows very soon.

Features
Very nutritious as it contains a unique blend of Tamarind extract, Japanese Green Tea, Aloe Vera, Cucumber Extract & Marine Minerals.
Keeps your skin bright and glowing.
Reduces fatigue.
It contains hydration mist which keeps your skin fresh the whole day.
98% naturally prepared
This Korean toner is non-comedogenic as it prevents blackheads by blocking pores on the skin
PH balanced
Packed with super nutrients that are guaranteed to provide you youthful complexion
Whamisa Organic Flower Deep Rich Essence Toner
Why use this product?
If your skin is so dry and you need a very good moisturizing toner you can go for 100% organic Korean toner Whamisa Organic Flower toner. This toner is processed with natural ingredients. As it contains natural ingredients, it's totally irritation-free and alcohol-free. It provides all day and night long moisturization. This organic Korean toner helps you restoring hydration and makes your skin healthy. Because of the watery texture of toner, it gets absorbed deeply through the various layers of skin in seconds that too without blocking pores or heavy feeling. The flowery scent in it makes you use it throughout the year. It has a slightly peppery, but the natural scent, which fades up so quickly after patting on the face.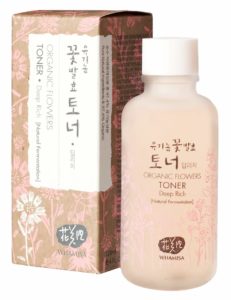 Features:
Extremely hydrating leaving skin plump and smooth
Excellent solution on deeper wrinkles and larger pores.
100% natural ingredient
Acne-prone
Suitable for a wider range of skin type
Whamisa Organic Flowers Deep Rich Essence Toner has fermented flower substances that provide a lot of moisture to your skin that is dried, stressed, and irritated.
One of the Best Korean toner for dry skin
MISSHA Time Revolution Clear Toner
Why use this product?
This multifunctional Korean toner can be used as a toner as well as facial nutrition.
It helps in soothing your skin and making it softer. This formula gives a gentle and refreshing exfoliating care.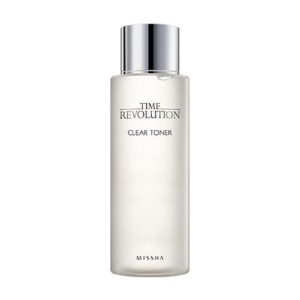 Features
Removes dead skin cells with AHA
Makes your skin soften & regenerate new skin cells with BHA
Hydrates and brighten skin with Fermented Yeast Extract
It wipes off impurities and dead skin cells.
Best suited for all skin types.
[KLAIRS] Supple Preparation Facial Toner
Why use this product?
Faster absorption of tones given enhanced hydration to your skin. The skin becomes brighter with higher moisture retention. It contains hyaluronic acid and beta-glucan which gives prolong hydration by 20% more than other toners.
For dry skin, use 2-3 times a day. With decreased oiliness and increased absorption, it's suitable all year round for oily skin as well. Improves the texture of your skin and fill pores.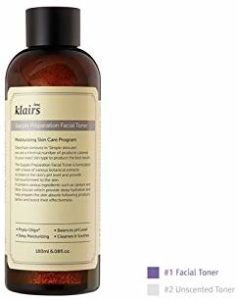 Features
Hydrates and calms sensitive skin
Keeps PH of your skin balanced
non-irritating, super hydrating toner
Faster absorption enhanced hydration
Balance pH level, Calming formula, Non-irritation,
Very gentle
Layers well with other beauty products
Fast absorption
Get a good amount of product for best price
Banila Co Dear Hydration Toner
Why use this product?
Infused with lotus fermentation water to stimulate and calm tired skin, Nelumbo Nucifera Flower Water provides purification energy to remove impurities with a calming effect, Bambusa Arundinacea Juice containing abundant minerals provides a cooling, refreshing effect for long-lasting moisture.
Winter in the Midwest is very hard on your skin. This is very hydrating and soaks in immediately. Gentle on my skin with little to no fragrance.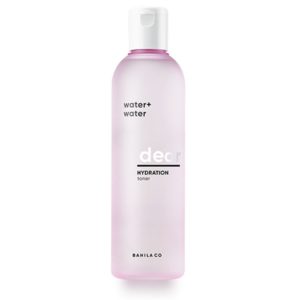 Features
Moisture toner that hydrates your skin and removes impurities to maintain your skin's pH balance.
hydrates your skin and removes impurities
purify, nourishes controls acne
boosts skin immunity to fight radicals, relieves stress
evens skin tone diminishes scars and pigmentation
Cosrx AhA/BHA Clarifying Treatment Toner
Why use this product?
The AHA/BHA used in this toner exfoliates dead cells and helps your skin to look very refreshing. It controls sebum and clogs your pores. The AHA Clarifying Treatment Toner hydrates and rejuvenates the skin. Prevents whiteheads, blackheads, and blemishes for the perfect flawless skin. It Exfoliates, cleanses your skin with organic AHA/BHA molecules. This treatment toner makes daily exfoliation possible with its mild AHA/BHA formulation. Over continuous usage, your skin will reveal a newer, healthier skin with a much smoother texture and brighter complexion.

Features:
Daily exfoliating effects for a smooth & even skin.
Rejuvenate with enriched mineral water and vitamins.
Cleanse and maintain optimal skin balance.
Super absorption & Hydration
In a lightweight, non-sticky formula.
Earth's Recipe Energy Boosting Toner
Why use this product?
Made up of brightening Tremella Fuciformis & White Jelly Natural Herbs that are rich in collagen. Loved by Korean celebrities for its ability to prevent skin contraction and maintaining a firm complexion and youthful appearance.
This energizing Toner is suitable for all skin types and colors, but best suited for dry and combination skin types which shows early signs of aging and require constant moisture. By delivering a refreshing moisturization it wakes up dull skin and also enhances absorption capacity of it. It's the best anti-wrinkle toner which makes your skin makeup perfect. Earth's Recipes products are US FDA Certified, dermatologist-tested, and hypoallergenic. This energizing Toner is free of PABA, benzophenone, mineral oil, triethanolamine, sulfate-based surfactants, petrolatum, imidazolidinyl urea, talc, artificial pigments, and fragrances. Earth's Recipe is strongly against animal testing and all Earth's Recipe's products are cruelty-free.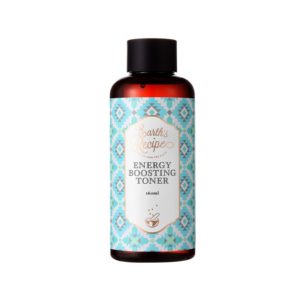 Features
This essence-like toner wakes up dull skin by delivering a refreshing blast of moisture while enhancing the absorption ability of the skin.
High in collagen and active ingredients
Ability to prevent skin contraction which makes it best suited for anti-wrinkle toner.
It helps to maintain a firm and radiant complexion.
The anti-wrinkle abilities of this toner allow you to intensively & effectively reach the deepest layers of your skin.
Mizon Intensive Skin Barrier Emulsion
Why use this product?
Get a treatment of Mizon Intensive Skin Barrier Emulsion to rejuvenate your skin with the help of its lightweight and ultra-hydrating formula.
Really excellent for my very sensitive combination skin. It makes your skin like baby skin. It effectively cleans the inside and outside of pores with its special extract. This essence balances the PH level as well as makes your skin so soft.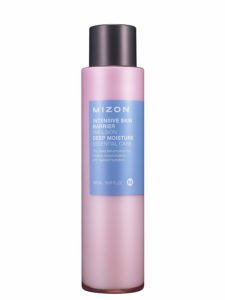 Feature :
Specially moisturizes dry skin
Mild formula for sensitive skin
Very light and refreshing, the texture is more gel-like.
Used as intensive pore care
BENTON Snail Bee High Content Skin(Toner)
Why use this product?
It contains Camellia Sinensis(Green Tea) LeafWater which is best for cooling skin, Snail mucus filtrate gives recovering effects and Bee Venom which has amazing anti-inflammatory properties which both are great for blemished skin. It helps to protect and heal the skin. It is a multitasking line with brightening (niacinamide) and wrinkle care (adenosine) ingredients and AF-24 (ACNE-FREE), a special compound made up of 5 botanical extracts specialized for skin concerns. comes without mineral oil, fragrance, coloring, talc, animal ingredients, silicone oil.

Feature
Best remedy on Skin concerns like Uneven skin tone, Pigmented skin with acne scars
Best for Skin with a dull complexion
Harmless ingredients
Total pore solution
Made of Anti Pore-Dex Complex & Astringentlex: For tightening up pores effectively.
Gives amazing acne-prone skin
Deep cleansing, sebum control
balances pH levels make skin pure like baby skin
tightening up pores effectively
Innisfree Green Tea Balancing Skin
Why use this product?
It's a moisturizing toner with eco-friendly ingredients like Jeju fresh green tea and green tea seeds. Green tea harvested on Jeju Island is rich in amino acids and minerals that help keep the skin nourished. It contains nourishing agent betaine which provides intense moisturization and nourishment for the skin to restore PH.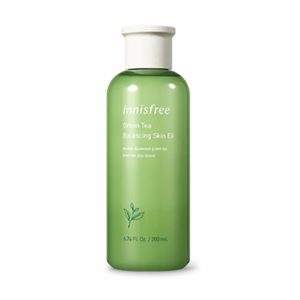 Feature
A balancing toner for any kind of skin.
It contains eco-friendly Jeju fresh green tea and green tea seeds which provide moisturization and nourishment.
Absorbs quickly into the skin without any stickiness.
The natural moisturizing agent betaine, derived from amino acids, provides intense moisture for combination skin to restore the skin's natural balance.
Etude House Moistfull Collagen Facial Toner
Why use this product?
If you want bouncy jelly-like skin then you must go for Etude House Moistfull Collagen Facial Toner. This Korean Toner contains Hydrolyzed Collagen which gives your skin a lot of moisture. The small particles of the Hydrolyzed Collagen and Baobab water in Toner provide moisture and leave your skin feeling very hydrated and nourished. One of the Best Korean toners for dry skin one must invest in.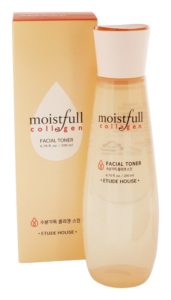 Feature
Very useful for Itchy skin due to dryness and sensitivity
Nourishes skin with a dull complexion
Hydrolyzed Collagen in this toner gives your skin a lot of moisture.
Absorption of toner in your skin is very easy because of the jelly-like structure which helps to make your skin smooth.
Useful Reads
Conclusion
We have studied 11 Korean toners out of which some best toners are listed below for various purposes.
The best Korean toner for acne is BENTON Snail Bee High Content Skin Toner.
The best Korean toner for dry skin is Whamisa Organic Flower Deep Rich Essence Toner.
Best Korean toner for oily skin is MISSHA Time Revolution Clear Toner.
Must Read: Top rated korean vitamin c serums