If you love Korean glasses, you'll love us
Korean glasses are so adorable, cute, attractive, and trendy. If you are looking for perfect glasses that will make you look adorable and compliment your personality. Glasses are meant to be stylish, amazing, and complement your personality. As Korean glasses are to be considered they are the best you can get. There are different glasses for different face types and suit according to your jawlines and face complexion. It makeovers your look and gains compliments for you. It changes your look to more attractive and stylish. There are frames according to your every look, mood, and event. Glasses change your look differently, you can carry your personality as you want. For special events, you can grab a special frame that will make you more confident and stylish.
How to pull off trendy Korean glasses?
There are many trending glasses these days but you should choose your frame according to your face type and shape so it suits your face and looks more stylish. It will compliment your face and will go with the look you carry.
If you have a square face
As a square face with a strong jawline round-frame will compliment your face perfectly. It helps to overall soften your face. Any curvy frame can balance the sharpness of your square face angle. The round frame with thin rims will go perfectly on your square face. Gold or silver round thin rim frames is perfect for such face type. The black-rim round frame will give you a perfect business look. The dark tortoiseshell round frame is all type and goes on every look and it looks super preppy.
If you have a round face
Like a round face, you should not choose round frame glasses it will make your face look more round so you should go with a square or rectangle-shaped frame. You should look for glasses which will give sharp and elongate your face. Two types of glasses go on a round face.
D-frame acetate:- It showcases your browline and sharpens your angles. It gives you a perfect classy look. This type of glasses is eye-catcher it will play down your cheeks.
Rectangular frame:-Rectangular frame on round face add a powerful touch to your personality. Proper classy and old-school type of look it carries.
If you have an oval face
An oval face is an ideal face shape as it has a balanced proportion. so you can carry almost every frame. Still, there are some exceptions so square frames are the perfect frame for an oval face. The square frame adds length to your face shape. A full bold black square frame will give you a very stylish look for every event. Also slim-delicate not so the square frame will give you a classy and allegiant look.
If you have a heart-shaped face
As you have a wider forehead, a trapped chin, and high cheekbone. Three types of frame will go with your face cut.
Round frame:- As your face shape the glasses with smooth edges go well and gives you a perfect look. It counters your sharp angles and compliments your face shape well. It also draws attention to you and gains compliments for you.
Cat-eye frame:- Cat-eye always adds a glamorous look and gives you a classy look. It draws everyone's attention and helps you to gain compliments. It gives you vintage touch and adorable stylish look.
Aviator-style frame:- An aviator slim-rim frame gives you a perfect glamorous look and colored aviator rim frame gives you a feminine look for every occasion.
If you have a diamond-shaped face
A diamond-shaped face is rare ones with a narrow chin and narrow forehead. You should go with a round type of frames so it can soften your sharpness. Five types of frames suit your face cut.
Octagon frame:-It is the most trendy frame these days and looks classy. It gives you an elegant look. with slim-rims, it gives ventage touch and perfectly goes with your face type.
Hexagonal frame:- This type of frame is trending nowadays. Its funky frame speaks up for themselves and gives you a perfectly stylish and classy look.
Rimless-acetate frame:- It gives you a proper mature and intellectual look. That specks up for you and gives you a confident look. As you carry it you look dam classy.
Cat-eye frame:- It gives you a playful and sassy look. It adds elegances in your face. Cat-eye is the perfect type of frame your face cut needs.
Oval frame:- It is the most simple elegant frame suits on your face. It gives you a perfect casual look for your official meetings and event.
Top 10 Best Korean Glasses
---
TIJN Women Metal Circle Eyeglasses
It is a metal frame.
It has non-polarized glasses.
It is the full-rim round frame for the office look.
Adjustable nose pad and a sturdy structure so it makes the frame more durable.
Fits on all types of faces.
Colors:- black, pink, towny, retro black, gold, tortoise/black, and black/gold.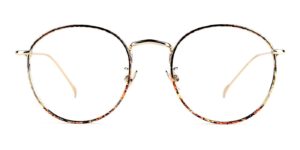 Komehachi – Ultra Light Slim Round Metal RX-Ready Clear Lens Eyeglasses Frame
It is made of ultra-light metal.
It has a polymer resin lens.
The anti-scratch coating on lenses.
Get fit on every type of face.
colors:- black and brown.

DONNA Stylish Clear Lens Frame Glasses
High-quality metal.
Scratch resistance coating.
stainless steel resists from corrosion.
Lightweight and durable.
Vintage round frame with tortoiseshell frame.
Reduce eye-straining during the use of a computer or phone.
colors:-amber, black, contrast, gradient blue, matte black, pink, purple amber, red, tortoiseshell, transparent blue, transparent gold, transparent grey, and transparent green.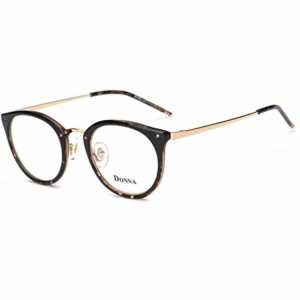 "Fairy"Vintage Inspired Classic Half Frame Glasses
Plastic frame and plastic lenses.
It is a non-polarized glasses.
It gives you 100% protection against UV rays.
Longlasting and very comfortable.
colors:-black silver, black/gold, clear frame, thick black frame/ gold-rimmed, thin black/silver, tortoise frame/gold-rimmed, and tortoise/gold.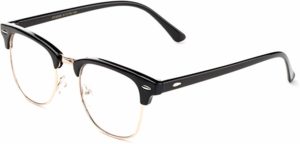 TIJN Vintage Round Metal Optical Eyewear
Comfortable to wear.
Non-prescription lenses.
Longlasting.
Durable.
colors:-(clear lens) marble, (blue light blocking) gold fade, (blue light blocking) pink, ( blue light blocking) tortoise, ( clear lens) black, (clear lens) clear blue, (clear lens) clear tawny, (clear lens)gold fade, (clear lens) pink, (clear lens) tortoise,(clear lens)tortoise/black, (clear lens) transparent/black.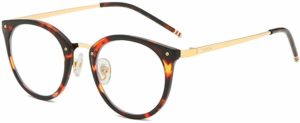 Round Clear Metal Frame Glasses
It is a metal frame.
Plastic lens.
It has a non- polarized lens.
comfortable and longlasting.
colors:- full black, full gold, and silver.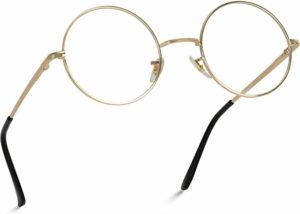 Retro Round Clear Lens Glasses Metal Frame
It has a metal frame.
Plastic lens.
Metal round glasses.
Clear lens.
Adjustable nose grip.
comfortable and durable
colors:- gold, gunmetal, and silver.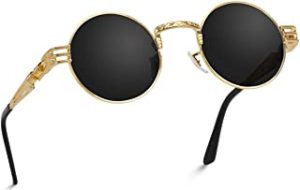 Pro Acme Retro Round Metal Frame
Non-Prescripted you can change the lens.
It has a metal frame.
Plastic lens.
Quality product and durable.
Extremely comfortable.
colors:-gold frame/clear lens, gold-blue light glasses, black frame/ clear frame, bronze frame/ clear lens, gold line frame/ clear lens, gunmetal frame/ clear lens, and silver frame/ clear lens.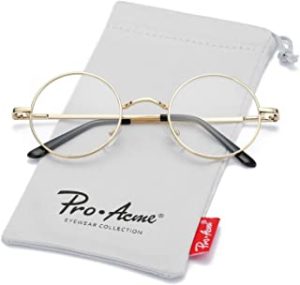 Joopin Semi Rimless Polarized Sunglasses
It is synthetic glasses.
It has a composite lens.
Fully polarized lens.
Comfortable and durable.
colors:- all black, black metal, blue mirror lens, brilliant black frame grey lens, brilliant black frame, brown, G15, gold metal frame, leopard frame, leopard silver, matte black/grey lens, metal frame blue lens, retro black, retro leopard/blue, retro leopard/olive, retro leopard/ pink, and shiny black.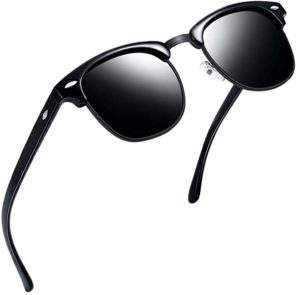 Clear Lens Glasses Round Sunglasses
It has a metal frame.
Plastic lens.
Circle clear lens.
Comfortable and durable.
Protect against harmful UV rays.
colors:- gold, gold frame/ clear lens, transparent round frame, and large gold hippie.

Reccomended Read: Popular Sunscreens in Korea
Frequently Asked Questions
Q. Can these be used with a prescription?
A.  Yes, just verify with your local optician.
Q. Do they actually work as sunglasses?
A. They are for fashion but they provide UV protection.
Q. Do these frames feel sturdy?
A. Yes, they are sturdy.
Q. Are these frames are glare?
A. No issues are found with glaring till now.
Q. Do the gold framing peels off over time?
A. No, they don't.