What exactly blackheads are? It is having a rough structure and can be noticed easily. A clogged mixture of dead skin cells and excess sebum produces blackheads. Blackheads are open. So it can be easily oxidized and turns black. It is very irritating to have blackheads on the skin. Korean skincare products are world-famous. This are the most recommended Korean Beauty Products for Blackheads you should try to get rid of blackheads.
Top 10 Best Korean Products for Blackheads
---
KLAIRS Gentle Black Deep Cleansing Oil is an oil-based cleanser. Its best for sensitive skin. It's a hypoallergic product. It also contains vegetable oil. KLAIRS Gentle Black Deep Cleansing Oil cleanses deep into the pores by removing any dirt or impurities there and after that moisturizes the skin giving soft and supple skin texture. It is enriched with vitamin E providing you wrinkle-free skin due to its anti-aging effects. Who doesn't want beautiful younger-looking skin? Its the best deep cleansing oil for removing blackheads. Korea products are very famous in the world for their cosmetics. Korea has a wide range of cosmetic products. This is one of them. KLAIRS is a famous Korean brand.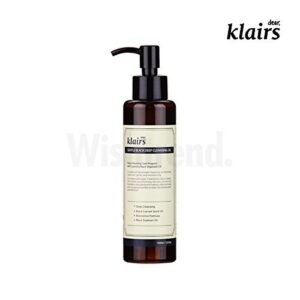 Features
Oil-based cleanser
Hypoallergic
Removes impurities and moisturizes the skin
Anti-aging properties
COSRX BHA is a Korean product to treat blackheads in liquid form. The oil-soluble liquid in it deeply goes into the pores and removes sebum. Also, it contains betaine salicylate which is used to fight against bacteria which causes bacteria. COSRX BHA BLACKHEAD POWER LIQUID first softens the blackheads then it exfoliates the dead skin cells. So after continuous usage of this product sebum production is reduced to a greater extent and in turn, blackheads are also reduced. So you get overall radiant skin. Sebum after oxidization turns into blackheads. So this product mainly concentrates on removing dead skin cells and prevents the production of oxidized sebum. Due to betaine salicylate, you get smooth and glossy skin. Also, it produces a moisturizing layer on the skin. So say bye-bye to blackheads now. This is one of the Korean products for blackheads.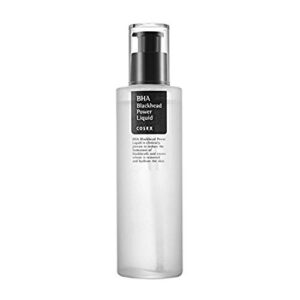 Features
Controls sebum production
Smooth and glossy skin
Moisturized skin
NEOGENLAB Bio-Peel Gauze Peeling Pads are dermatologically tested and so its the perfect product for those with sensitive skin. It also contains vitamin C. Vitamin C is used to fade acne and also it brightens the skin. It has an amazing smell. Once used you will love to buy it again.
NEOGENLAB Bio-Peel Gauze Peeling Pads are used for cleansing the skin. It has a powerful exfoliation formula that removes old dead skin cells. You get a pure, shiny, and bright skin with the usage of this. Lemon having vitamin C gives a healthy glow to the skin. You get a beautiful bright skin. With 2 steps peeling action you get soft and smooth skin. Pure cotton gauze is used to make these pads that are safe to use on skin. NEOGENLAB Bio-Peel Gauze Peeling Pads are having 3 layer structure. 100% Pure cotton mesh gauze pad then cushion pad and then embossed pad. This is the gentle exfoliating pads that help to remove dead skin cells, excess sebum production, and any impurities there. It makes the skin firm and healthy due to antiaging effects.
Features
Enriched with vitamin C
Amazing smell
3 layer structure of the pads make it more functional
Innisfree Super Volcanic Pore Clay Mask is one of the best masks in Korea. It made up of clay. This mask has 6 in 1 pore power due to the super volcanic cluster capsules present in the mask. This capsule does a job of absorbing sebum and also cleansing of pores. So you get clean pores with no sebum secretion in the pores. Jeju volcanic clay is used in the making of this mask. During volcanic explosions, its minerals are used to make the clay. AHA ingredient in the Innisfree Super Volcanic Pore Clay Mask does exfoliation. The exfoliation process removes dead skin cells and gives you soft and supple skin. Innisfree Super Volcanic Pore Clay Mask works in three different steps. That is it tightens the pores then removes sebum then exfoliates the skin thereby removing dead skin cells. This is the best Korean product for enlarged pores. Continuous usage of this mask improves the skin tone and also provides a cooling effect to the exfoliated skin.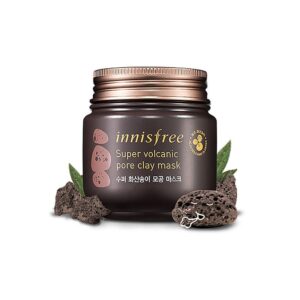 Features
Clay mask having 6 in 1 pore power
AHA ingredient used for exfoliation
Tightens the pores
Removes sebum
Exfoliates deep into the skin by removing dead skin cells
If you are starting your day with a clean beautiful face, nothing is perfect than that. For this, you need to have a good cleanser which will feel you refreshed. COSRX Low Ph Good Morning Gel Cleanser has a low ph formula. It's one of the best Korean cleansers for blackheads. This gel cleanser doesn't remove natural oil on the face. BHA contents in this cleanser remove dead skin cells and this also helps to remove blackheads deep through the pores. It also has tea tree oil contents. It has a ph level of 5. It removes impurities gently and keeps the skin hydrated all day long.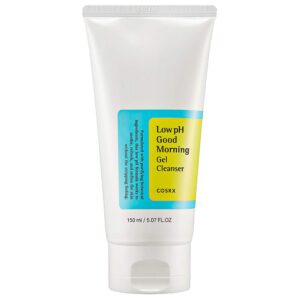 Features
Perfect for any skin type due to its low ph level
Controls sebum
Gentle skin cleanser
Keeps the skin hydrated
It is the best skin cleanser for sensitive and acne-prone skin. It does not contain any mineral oil. Also, no residue is left on the skin after cleansing. The first step to remove blackheads is cleansing the face properly. You can use this as a first cleanser to clean the face. This is the balm cleanser that removes makeup, sunscreen, and any impurities. And it will not dry your skin. It is an important advantage. It can be used as many purposes such as makeup remover, cleanser. It's the best affordable Korean skin cleanser. This is one of the best Korean cleansers for blackheads.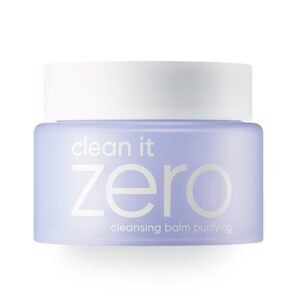 Features
Best skin cleanser for acne-prone skin
Also used as a makeup remover
Balm cleanser
Tea tree oil is a very popular ingredient for curing blackheads and acne. It's a natural remedy. LJH TeaTree 70 Toner Facial Mist has 70 percent extracts of tea tree which dissolves blackheads. This can be made at home. But the only risk is that the mixture should be properly diluted. The otherwise essential oil in it irritates the skin. This LJH TeaTree 70 Toner Facial Mist also has ingredients that soothe and hydrate the skin. Continuous usage of this nourishes the skin and protects the skin from damage. It is one advantage is it is available in an affordable range.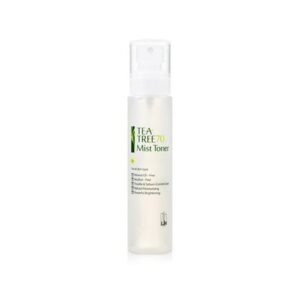 Features
70 percent tea tree extracts
Soothes and hydrates the skin
Best for acne-prone skin
Korean beauty products are famous worldwide. This is also one of them. AHA and BHA are the two exfoliants used in this toner. Both exfoliants work differently. One bust blackhead and the other used for keeping skin clear. BHA goes deep into the skin and removes blackheads from its roots. AHA is used to clear dead skin cells on the upper surface of the skin. The combined effect of both ingredients is great. Just after cleansing the face wipe your face with soaked cotton in a toner. This Korean product is not only best for blackheads but also best for pores too. You can call it as best Korean product for pores and blackheads. It's the best affordable Korean product for blackheads.

Features
AHA and BHA exfoliants are present
Removes blackheads from roots inside out
Dead skin cells are removed
If you don't have pores on your skin then don't worry about blackheads. Pores are the main factor from which blackheads come. So try to have a poreless skin. But it's not at all easy. COSRX Two in One Poreless Power Liquid claims to close the pores without getting irritated. This is due to the mixture of BHA's and vitamin. Its an alcohol-free, cruelty-free, vegan and paraben-free product. It is very cheap.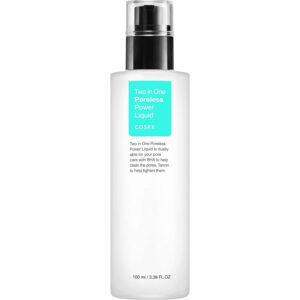 Features
Cleanses pores deeply
Tightens the pores
Feel refresh by cooling down the temperature of the skin
Production sebum is controlled
Dear, Klairs Gentle Black Sugar Facial Scrub is one of the best Korean products. Its a sugar scrub works amazingly on the skin to remove blackheads. Excess sebum production is controlled by this scrub. Moisturizing ingredients are present in the skin making the skin smooth and soft. Ingredients used in this scrub are black sugar, cranberry oil, shea butter, and vitamins A and E. This scrub exfoliates the skin deep. It also has anti-bacterial and anti-aging properties. Its anti-bacterial properties which control acne and anti-aging properties make the skin look younger and beautiful. It's one of the best Korean scrubs for blackheads. It is affordable blackhead remover in korean beauty.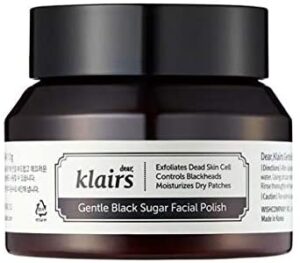 Features
Excess sebum production is controlled
Exfoliates deep into the skin by removing impurities
Moisturizing properties
So its a list of top best Korean products for blackheads. Just take a look and choose the right one for you. According to me KLAIRS Gentle Black Deep Cleansing Oil and COSRX BHA BLACKHEAD POWER LIQUID are the best products for removing blackheads. For sensitive skin DERMALOGY by NEOGENLAB Bio-Peel Gauze Peeling Pads, is the best option. If you are thinking for an affordable option then COSRX Two in One Poreless Power Liquid, Mizon AHA&BHA Daily Clean Toner is the perfect option. This list contains all the top products in some manner. So pick the one best for you according to your need.